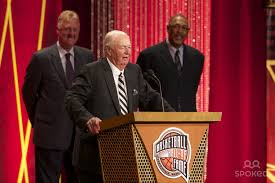 Coverage of Bob "Slick" Leonard's speech at the Naismith Hall of Fame induction in 2014
(c) 2014, Pacers.com. Reprinted by permission
Speaking from the heart rather than a printed page, Bobby "Slick" Leonard was formally inducted into the Naismith Basketball Hall of Fame in Springfield, Mass. on Friday.
"I may not be the oldest to be inducted into the Hall of Fame, but I bet I'm in the top five," the 82-year-old Leonard said, probably accurately.
Leonard, who helped Indiana University to the NCAA championship in 1953 and coached the Pacers to three ABA championships, was the third person to be inducted during the ceremony. He spoke for 30 minutes, telling stories from his childhood, playing career and coaching career, and thanked his family and the fans of Indiana.
---
Tagged with:
Bob "Slick" Leonard
,
Naismith Hall of Fame induction