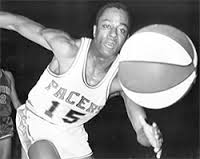 Jerry Harkness has the best backstory of anyone who has put on the Pacers uniform,  thanks to Jackie Robinson, southern bigotry and his own initiative.
This story, written in 2014, tells why he finally went out for his high school basketball team as a senior, how he got to Loyola of Chicago, the historic events that led to the school's national championship in 1963, the initiative that got him to the Pacers in their inaugural ABA season, and the career he built following his seasons with the team. 
Jerry Harkness isn't the greatest player to have worn the Pacers uniform. Not by a long shot, pun intended.
No other Pacer, however, has a better story than the one he has written through initiative, effort and fate. While he played in just 81 games and averaged just 7.3 points in the dawning days of the franchise, he has been a game-changer whose contributions have transcended sports – all thanks to one of the sporting world's ultimate game-changers.
---
Tagged with:
Indiana Pacers
,
Jackie Robinson
,
Jerry Harkness
,
longest shot in the history of basketball
,
Loyola University
,
NCAA basketball champion 1963
,
Quaker Oats