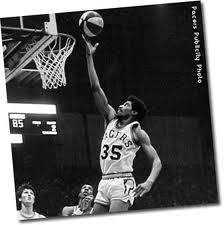 Roger Brown was a victim of the system, having been banned from college and the NBA for no good reason other than advancing someone's political or legal career. That turned out to be a defining break for the Pacers, who made him the first player they ever signed to a contract. This is the most complete article written on Brown, appearing shortly before his induction into the Hall of Fame in 2013.
[T]he irony of the turnover was cruel, but perhaps an appropriate touch for a basketball career defined by a mistake.
On the day he was admitted into the Naismith Basketball Hall of Fame in Springfield, Mass., the day he received the grand makeup call for a gross injustice that was acknowledged by a legal ruling, the attendees who opened the official induction ceremony program to read the article on Roger Brown were jarred by a glaring error: the full-page photograph accompanying the article was not of Roger Brown, the ex-Pacers forward who was one of the brightest stars of the ABA, it was of the journeyman Roger Brown who had averaged 2.4 points over 239 games in the ABA and NBA.
It was an innocent error, but short of reprinting the program after the ceremony there was no way to make amends. It will have to stand as a final, unintentional but somehow fitting jab at a player whose basketball career was a roiling brew of mistake, misfortune and mistrust, but one that ultimately thrived because of assists from fate, perseverance, and loyalty.
Brown's life is worthy of a book, and has been the subject of a documentary called "Undefeated." The quick recap is that Brown was – and still is – one of the greatest high school players ever to come out of the New York City area, a graceful, athletic, 6-5 forward with uncommon skills. He accepted a scholarship to Dayton, where he played on the freshman team but was then banned from playing in the NCAA, NBA or in the Olympics because he had known a notorious gambler and game-fixer, Jack Molinas, a man who hung around the playgrounds of New York to establish relationships with players who might later be willing to conduct "business" with him.
There was no evidence Brown had participated in illicit activity, but he, like his fellow New York City high school star, Connie Hawkins, was banished to the playgrounds and AAU competition until the ABA came along in 1967.
---
Tagged with:
Indiana Pacers
,
Naismith Basketball Hall of Fame
,
Roger Brown