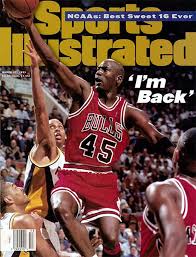 I missed this historic moment. Working for the Indianapolis News at the time, I had been assigned to cover Purdue in the NCAA tournament in Austin, Tex. It won its first-round  game then lost to Memphis on the same day Jordan shocked the world by returning to the NBA. 
Hated to miss it but who knows? I might not have been able to get a credential. 
The game was going to be big enough on its own. The Pacers were 39-24, unknowingly headed for another run to the Eastern Conference finals. Chicago was just 34-32, but still carried an aura from winning three consecutive NBA championships from 1991-93. NBC was in town to broadcast the game nationally on a Sunday afternoon from a sold-out Market Square Arena.
It was about to get bigger, however. Much bigger. Late Saturday morning, the phone rang in the Pacers' media relations office and all hell broke loose.
Someone was calling from Chicago to say Michael Jordan was returning to the NBA.
And he would make his debut the next day, March 19, 1995.
Against the Pacers, at Market Square Arena.
Which meant that David Benner and his assistants, MaryKay Hruskocy and Tim Edwards, would have one day, nearly to the hour, to prepare for what still stands as the most notable regular season game the Pacers have ever played in Indianapolis, a game that would draw the highest Nielsen rating of any NBA regular season game in 20 years.
'It was an interesting 24 hours," Benner recalled with understatement.
---
Tagged with:
Jordan comeback game
,
Michael Jordan
,
Reggie Miller