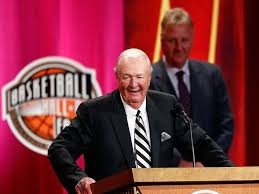 Nobody represents the sum total of Hoosier Hysteria better than Bob "Slick" Leonard. This story was written shortly before he was inducted into the Naismith Basketball Hall of Fame in 2014, a long overdue recognition of his contributions to the game as a player, coach and broadcaster.
It's one of his favorite sayings, advice awarded to so many players over so many years that it comes back to him like an undying echo.
"Don't get off the bus."
It's Slick Leonard's way of reminding NBA players to stay in the game, in whatever capacity they can, for as long as someone will have them, because they'll never find a job as exciting as being employed in basketball. You can own a business, you can work 9 to 5 for someone else, maybe you can afford to do absolutely nothing for the rest of your life, but why would you do that when you can be paid for being in basketball? Play it, coach it, broadcast it, scout it, administrate it, hell, sweep up after it if you have to, but don't get off the team bus. Even if you're only metaphorically riding it.
---
Tagged with:
Boom Baby
,
Indiana Pacers coach
,
Naismith Basketball Hall of Fame inductee
,
Nancy Leonard
,
Slick Leonard