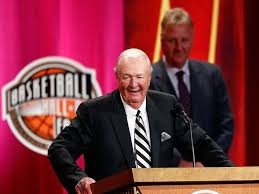 Nobody represents the sum total of Hoosier Hysteria better than Bob "Slick" Leonard. This story ran shortly before he was inducted into the Naismith Basketball Hall of Fame, a long overdue recognition of his contributions to the game as a player, coach and broadcaster.
(c) 2014, Pacers.com. Reprinted by permission.
It's one of his favorite sayings, advice awarded to so many players over so many years that it comes back to him like an undying echo.
"Don't get off the bus."
It's Slick Leonard's way of reminding NBA players to stay in the game, in whatever capacity they can, for as long as someone will have them, because they'll never find a job as exciting as being employed in basketball. You can own a business, you can work 9 to 5 for someone else, maybe you can afford to do absolutely nothing for the rest of your life, but why would you do that when you can be paid for being in basketball? Play it, coach it, broadcast it, scout it, administrate it, hell, sweep up after it if you have to, but don't get off the team bus. Even if you're only metaphorically riding it.

Many of the players on the receiving end of all those little advice assists over the years bring it back to Leonard when they see him at games today, regardless of what they're doing in the game and who's paying them to do it.
"Hey, Slick! I'm still on the bus!"
Thing is, nobody has ridden the basketball bus like Leonard, whether it's all those actual butt-in-the-seat journeys along thousands of roads across the country or the symbolic rides that go with drawing a paycheck from the game. From a high school career in Terre Haute in the 1940s, to a college career at Indiana University, to a professional career in Minneapolis, Los Angeles, and Chicago, to coaching gigs in Baltimore and Indianapolis (which also included a run as a general manager) and to a broadcasting career in Indy that's outlasted all the others, Leonard has ridden in all capacities.
He's celebrated countless wins and mourned his share of defeats on a bus. He's won and lost thousands of dollars in games of poker and gin on a bus. He got his nickname on a bus. He very nearly died on a bus. It would be appropriate, wouldn't it, if he rode one all the way to Springfield, Mass. for his induction into the Naismith Memorial Hall of Fame on Friday? Think of all the money he could win along the way if he could find a willing poker player.
***
Robert "Slick" Leonard is 82 years old, has been married to his college sweetheart, Nancy, for 60 years, hit the game-winning free throw in the NCAA championship game as a player, led his teams to three ABA championships as a coach, and will soon be in the basketball hall of fame.
His legacy, however, at least to those who know him, is his personality. He was wild in his younger days, and semi-wild in his middle-aged days, seemingly investing in nearly every vice known to man. He drank, he smoked, he gambled and he swore, but he was and is the ultimate people person. His toughness, his compassion, his sense of humor and his sense of fun have made him universally beloved. He has as much right to an ego as anyone, given his accomplishments and fame, but has remained as grounded as a broken airplane.
He grew up poor even by Depression era standards in Terre Haute in the 1930s. Even worse, his relationship with his father left him emotionally impoverished. Thanks to the support of many relatives, neighbors and coaches, he managed to stay out of trouble most of the time. And rather than growing angry and bitter, as many would have, he acquired a hunger for accomplishment and relationships. Inevitably, he was instilled with humility, too. Those qualities would serve him well in life, as a player, coach and husband.
He was a standout high school player, an All-American guard at IU,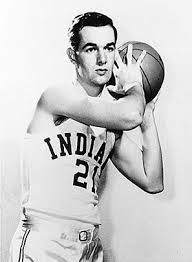 and the MVP of the East-West College All-Star Game at Madison Square Garden following his senior season. He was the 10th pick of the NBA draft, which put him at the top of the second round, and after a two-year Army hitch, played seven seasons in the NBA. He describes himself as nothing more than an above-average player in the pros, a claim supported by his career scoring average (9.9), but he could have played better and longer if not for a series of shoulder injuries.
It was coaching – specifically that part of it with the Pacers – that offered him a template for greatness and earned his entry into the Hall of Fame. His first stab at the job came as a 29-year-old player-coach for the Chicago Zephyrs in the1962-63 season. The franchise moved to Baltimore the following season, where it became the Bullets and Leonard became a full-time coach. He was a young mentor with a young team that included several players who would go on to have successful careers – Walt Bellamy, Terry Dischinger, Gus Johnson, Kevin Loughery and Rod Thorn among them – but wasn't yet mature enough to win. The Bullets finished 31-49, and the team's impatient leadership fired Leonard.
The basketball part of his life was over. Or so it seemed. The Leonards, whose family now included three children, moved back to Indiana, to Kokomo, where he took a job with Herff-Jones, a manufacturer and distributor of class rings, yearbooks and other items for high school students. He roamed his territory of 58 schools, where his name still carried weight with principals and athletic directors who remembered his heroics at IU, plying his wares. Nancy organized and administered the operation from their home and the children spread out on the living room floor to package the orders, forming a miniature assembly line.
With Nancy teaching at Taylor High School, they built a new home on the outskirts of town – the first they had ever owned instead of rented – and settled into a peaceful life. Had the American Basketball Association not been brought into the world, they might still be living there, retired and fairly anonymous. But it was, and it offered Slick a second chance to prove himself in the job for which he was best suited.
Not right away, though. Leonard wasn't about to risk his family's security on a new league with a crazy red, white and blue ball and a three-point shot that had been taken from the failed American Basketball League of the early 1960s, so he rejected inquiries into his interest in coaching. He wound up endorsing the hire of Larry Staverman, who had played for him in Chicago and Baltimore. He did agree, though, to be a consultant for the team as a favor to Pacers general manager Mike Storen, who had worked in the Zephyrs and Bullets front office while Leonard coached in the NBA. Along with fellow Terre Haute native Clyde Lovellette, Leonard ran a camp in June of '67 that attracted dozens of dreamers – some people recall more than 100 of them. Three public scrimmages were held, the third of which drew 3,800 fans to the Fairgrounds Coliseum. Clearly, the city was hungry for a professional team.
The only way to separate wheat from chaff was to find out who was in condition, so Leonard lined up the glory-seeking hopefuls and had them run sprints until some were recycling breakfast. Then, the story goes, he told them they hadn't seen anything yet, they'd be running more the next morning. Most of them didn't bother to come back.
The Pacers sought out Leonard again early in their second season. They had one of the league's more talented teams after acquiring center Mel Daniels, but started just 2-7 under Staverman. Leonard still didn't think the ABA would last, but he had seen enough to feel he wouldn't be embarrassed to be seen with it, and he knew he would have enough talent to have a winning team, unlike in his NBA jobs. At the very least, he figured he could take the $20,000 or so the Pacers offered him to coach the rest of that season and pay off his new furniture. He knew better than to give up his Herff-Jones business, though. He drove in from Kokomo for practices and games that first season, often scheduling workouts in the evening so he could make his sales calls during school hours.
After coaching the team to the ABA finals at the end of his first season, he was convinced the ABA could last awhile. He talked a developer into selling him a double lot in Carmel for $8,100, and built a more conveniently located home. He and Nancy still live there.
What happened after that remains the highlight of the Pacers' franchise history. His teams won ABA titles in 1970, '72 and '73, and reached the championship series in 1969 and '75. He won more games than any ABA coach, and enlivened the entire league with his raucous sideline demeanor. He lit up the franchise and the city, too.
It started by lighting a fire under his players.
Daniels, a two-time ABA Most Valuable Player, recalls the first practice at Brebeuf High School after Leonard took command. He fired a mid-range jump shot, something he had been doing fairly routinely to that point. Leonard immediately and loudly informed him such shot selection would no longer be tolerated. His role would be to stay near the basket.
Roger Brown, who didn't easily submit to trusting authority figures, was left behind on a road trip shortly after Leonard took over, just to let him know his attitude needed to improve.
Bob Netolicky, four-time All-Star, was threatened with a hockey stick after a desultory first half in a game against the Minneapolis Pipers in Duluth, Minn. during the 1969-70 season. Leonard picked one up from a stack in the locker room at halftime and chased after Netolicky, who found a safe place in a bathroom stall. Leonard, intent mostly on injecting some adrenaline into his player and the rest of the team, broke the stick over the top of the door.
George McGinnis once begged Leonard to stop with all the sprints after one particularly brutal practice, claiming he was about to have a heart attack. Leonard said not to worry, he'd faint before his heart gave out, and someone would carry him off the court if he did.
Leonard went after referees and opposing coaches, too. He famously threw a ball rack near the Pacers bench onto the court at referee Ed Rush during a game at the Coliseum, spraying balls in all directions. He recalls being summoned to New York to meet with commissioner Storen, the former Pacers general manager, and fined $1,000. Leonard was shocked.
"Mike, come on, a thousand dollars?!" he said.
"OK, we'll waive the fine," Storen said.
He kicked a ball that had been placed on the foul line into the stands in Salt Lake

City during a timeout, partly to liven up a dead crowd. "If there had been goalposts up there, I might have made a 40-yard field goal," he says.
And, in San Antonio in 1975, he confronted the timekeeper at the end of regulation play of Game 1 of a first-round playoff series against the Spurs. Bob Smith had waited too long in Leonard's opinion to start the clock on a Spurs' possession that could have won the game with three seconds left. They missed the shot, but Leonard charged to the scorer's table, banged his fist on the timing apparatus, and shouted at Smith. As Smith stood up to argue, Leonard grabbed him by his lapels and shook him. A referee separated the two while the benches cleared and fans showered the court with debris. The Pacers won the game in overtime, and required a police escort to the locker room.
The Pacers went on to take a 3-0 lead in the series, but the Spurs came back with two victories. Blood ran hotter with each game, and before Game 6 at Market Square Arena, Leonard brought it to a boiling point.
"If they want to fight, let's fight," he told local reporters, adding "if (Spurs coach) Bob Bass steps across that center line Wednesday night, I'll deck 'im."
Imagine the consequences of such a public statement today.
The Pacers clinched the series with a 115-100 victory in Game 6. Leonard's only haymaker, though, was strategic. The Spurs' backcourt, George Gervin and James Silas, had combined for 81 points in the previous game in San Antonio, so he moved 6-9 forward Darnell Hillman to the backcourt to guard the 6-7 Gervin, thus freeing Don Buse and Kevin Joyce to take turns on Silas. Gervin scored 34 points, but needed 27 shots to do it. Silas scored 17, hitting 7-of-16 shots. Overall, the Spurs hit just 43-of-101 attempts while McGinnis roamed wild and free with 32 points, 23 rebounds and 14 assists.
That game as much as any reveals the foundation of Leonard's success. He instilled his players with a street-fighter's attitude, and he wasn't afraid to make dramatic changes in strategy on the spur of the moment. More than once he changed the offense at halftime of a game.
"An entirely different offense," Hillman recalls.
He also was capable of savvy motivational ploys. When the Pacers played Utah in Salt Lake City in the seventh game of the 1972 semifinals, he sent trainer David Craig into the locker room with about four minutes left in the first half to tape a $20 bill underneath each of the players' seats. When he was finished talking strategy, he told them to stand and look underneath their chair. "See that $20," he said. "Just imagine that floor out there being three feet deep in $20 bills, and under those bills are championship rings. Do you want it or are you going to let them have it?"
The Pacers, who had trailed the series 2-0 and 3-2 and were in need of one more win, led by four points at the time. They held on for a 117-113 victory and went on to win their second championship.
The bottom line of everything Leonard did, crazy as some of it might sound today, was to give his players spirit and confidence. And Leonard did that as well as any coach who ever lived. "Walk out there like you own the damn joint," he'd tell them before playoff games on the road. His players still recall the special feeling they shared walking through the tunnel to the playing court amid hostile fans. The result: Leonard's ABA Pacers had a 6-2 record in Game 7s, and all three of their championships were clinched on the road – in Los Angeles in 1970, New York in '72 and Kentucky in '73.
Leonard knew how to push buttons off the court, too. Back in the days when teams flew commercial flights and stayed overnight at their hotel following road games, he required his players to gather in the bar afterward. They didn't have to drink alcohol, and they could bring a friend, but they had to be there for awhile to celebrate the win or mourn the defeat. If someone failed to show, that player bought the first round the next time. Truth be told, some of those road trips bordered on mayhem, producing stories the participants still delight in telling during private moments. But that, too, contributed to the bond.
There was one more crucial ingredient to the unique chemical composition of Leonard's teams: his genuine compassion. He didn't just go after Netolicky with a hockey stick in that locker room in Duluth; he also flew with him to Iowa for his mother's funeral. He didn't just leave Brown home for a road trip to send a message; he also became a father figure for him. That was publicly evident when Leonard wrote a poem that he read at Brown's funeral service in 1997.
"It got to the point sometimes it was like, 'You want me to knock the wall down? Show me where it's at,'" Hillman says. "We were ready to run through a wall for him. He had our backs."
***
Leonard didn't learn how to build that brand of camaraderie from anyone, and it wasn't concocted. Perhaps it was how he filled the emotional vacancies of his childhood, when he lacked a close bond with his father. Maybe it was simply in his genes. Whatever, it was more a way of life than a strategy.
"Every player is an individual," he says. "You have to understand what kind of person they are. And you play to their strengths.
"If you're phoneying up on them, they'll figure you out pretty quick. You've got to let them know you sincerely care about them and their families. There's a time when you need to kick 'em in the butt and a time to hug 'em. We developed a great family here."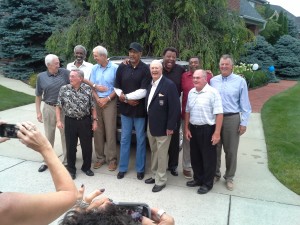 The bond is still intact. Leonard sees his players often, and it's like no time has passed when they're together. Netolicky hosted a party shortly after Leonard's Hall of Fame selection, and another for a private premiere of Ted Green's documentary, "Bobby 'Slick' Leonard: Heart of a Hoosier." There will be another party at the home of team ophthalmologist Dr. John Abrams later this month.
Perhaps the best display of their eternal team unity came after Leonard suffered a heart attack on the team bus following a win over the Knicks at Madison Square Garden in March of 2011. He spent nearly a week in the hospital back in Indianapolis, where a pacemaker was implanted. His former players didn't leave him alone for long.
"One day I look up and there's all my guys," Leonard recalled. "We start telling jokes and my ribs are broke (from the resuscitation effort on the bus in New York). I'm laughing, and it's killing me."
"They were making so much noise, but they had all the people up there laughing," Nancy added. "You could hear them all over."
Leonard's knack for relationships has extended beyond the locker room.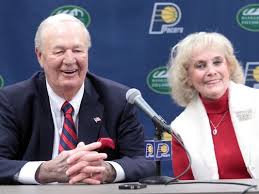 He and Nancy created a family atmosphere in the ABA days that ran through the entire franchise, hosting parties after games that included the stat crew, front office employees, referees and even opposing team members.
Fans have been made to feel welcome, too. It's telling that he and Nancy have kept a listed phone number throughout their time in Indianapolis, even when he was at the peak of his fame while coaching the Pacers. They wanted friends from out of town and their children's friends from school to be able to reach the household in that era when people looked up numbers in telephone books or called directory assistance. Even today, 40 years after his final championship, there are nights it seems he knows most of the fans at Bankers Life Fieldhouse. Or, at least they feel they know him.
He gets autograph requests in the mail from all over the world, too. Nearly all of them adhere to the protocol of including a self-addressed stamped envelope, but one recent request didn't include postage and had an illegible address. Leonard drove to the post office to see if anyone there could decipher it so he could mail it back at his own expense, but it was hopeless.
***
One of Leonard's proudest accomplishments is his longevity. The heart attack convinced him to limit his broadcasting schedule to home games, but he still outlasted every one of his playing counterparts from the 1950s who held jobs with NBA teams. Hot Rod Hundley, his roommate with the Lakers, Johnny Red Kerr and Tommy Heinsohn all were working as broadcasters well into the 2000s, but gradually fell by the wayside. Slick was the last one working a full-time schedule. Kerr (Chicago) has passed away. Hundley (Utah) is retired and in failing health, although he went to the trouble to fly in for the public premier of Leonard's documentary at Bankers Life on July 29. Heinsohn (Boston) cut back his schedule before Leonard did, although he still makes the occasional road trip.
It wasn't exactly a competition to see who could survive the longest on an NBA payroll, but it means something to Leonard that he outlasted everyone from his era. And while he's no longer a full-time passenger on the bus, he's still riding it metaphorically. And he'll go as long as he can.
Ten things that make him Slick
He got his nickname from Hall of Famer George Mikan, who coached the Minneapolis Lakers in the 1957-58 season, Slick's second season in the NBA. That season's rookie, Hot Rod Hundley, had been the first pick in the draft and was a hero in West Virginia, so two exhibition games were scheduled in the state. After the first one in Morgantown, the bus was rolling toward another town a couple of hours away. Most of the players were asleep, but Slick was playing Hollywood Gin with Mikan. He recalls Mikan asking him if they should stop to let the players get something to eat. Slick agreed, and just as the bus stopped and the lights came on, he blitzed his coach. "How about buying me a cup of coffee, you're too slick for me," Mikan said. Hundley, who was sitting behind them, had just woken up and heard the comment, and decided that should be Leonard's nickname. It stuck.

He had a shrewd business sense even at an early age. As a kid from a poor family, he was always looking for ways to earn money. He landed a job selling ice cream Eskimo pies from a cart downtown. The arrangement was to sell them for a nickel apiece, and he would get a penny for each sale. But he took the cart to the south side of town and sold them for a dime each, thus earning six cents – more than the man who owned the cart.

Leonard's signature moment as a college player, of course, was his game-winning free throw in the championship game of the NCAA tournament in 1953. The Hoosiers, playing defending champion Kansas in Kansas City, were tied in the final minute when Leonard drove to the basket and drew a foul with 27 seconds remaining. He missed his first attempt but hit the second for a 69-68 lead. Kansas missed a shot from the right corner on its final possession, and Leonard was carried off the court along with coach Branch McCracken. Leonard rarely lacked confidence, but freely admits to being "scared to death." And when reporters came to him in the locker room to tell him that McCracken had bragged that his junior guard had ice water in his veins, he delivered one of his classic lines: "If that was ice water, it sure felt awful warm when it was running down my leg."

Leonard hit another memorable foul shot as a senior at Terre Haute Gerstmeyer in what was one of his all-time slickest moves. In the season-opener, the first game played in the school's new gymnasium, one of Leonard's teammates was fouled in the final seconds and had a chance to hit game-winning foul shots. Leonard, according to an Indianapolis News account in later years, "shooed the offended Gerstmeyer player away from the line and the excited officials and opponents failed to notice the switch."

Ah, yes, the plane crash. Leonard was on the Minneapolis Lakers team that nearly perished en masse in a plane crash in Iowa in 1960. Following a Sunday afternoon loss to St. Louis, they were to fly home on the team-owned 1930s-era prop plane, but an electrical outing put them in immediate peril. It's a long and dramatic story, one that can be read here: The two co-pilots who managed to put the plane down safely in a cornfield in Iowa were later honored at a game in Minneapolis, and the Lakers players each kicked in $50 to give them $250 apiece for saving their lives.

He wasn't afraid to challenge opposing coaches, either in the newspapers or in person. While coaching in the NBA, a Celtics player had roughed up his young star, Terry Dischinger. He recalls walking down to Boston's bench, grabbing coach Red Auerbach by his shirt collar and threatened violence if Auerbach didn't get the offending player out of the game. "I saw a little fear in his eyes, because he knew I was serious," he told documentary producer Ted Green.

He kept running into Clyde Lovellette, so to speak. They grew up a year apart in Terre Haute, with Lovellette heading off to Kansas in '49 and Slick to Indiana in '50. Lovellette starred on a national championship team in '52, while Leonard helped lead IU to the national championship over Kansas in '53. They played against one another often in the NBA, and Leonard suffered a shoulder injury that led to the end of his playing career when he ran into one of Lovellette's screens. They worked together in running the Pacers' open tryout camp in June of '67, and remain friends today.

Leonard's signature broadcasting call for Pacers' three-point shots, "Boom Baby!" originated during a playoff game in Denver in 1973. The Pacers led the series 2-1, but trailed Game 4 by two points in the final minute. During a timeout, Leonard drew up a play for George McGinnis to get the ball near the basket. In Leonard's recollection, McGinnis got the ball but was double-teamed, so he threw a cross-court pass to Keller. The newspaper account, however, reported that McGinnis was too well-guarded to get a pass, so Darnell Hillman delivered a pass to Keller on the left wing instead. Keller faked, dribbled to his left and fired a shot over 6-4 Claude Terry that gave the Pacers a 96-95 lead with 14 seconds remaining. As Keller's shot swished through the net, Leonard pumped his fist and shouted "Boom!" He then quickly added, "Baby!" Why? That was just Leonard's way of talking. He often added "baby" to comments when he was fired up. Such as in "Let's go, baby!" It just came out that way naturally. The Pacers went on to win the game, 97-95, and a legend was born. Nancy eventually copyrighted the phrase, but the Leonards have freely let anyone associated with the Pacers use it – such as Reggie Miller, who named his film production company "Boom Baby

Productions.

He hit the last shot ever taken at Market Squa

re Arena. The very last event at MSA, following the final exhibition there in 1999, was a Pacers practice. Coach Larry Bird thought it would be appropriate if Leonard hit the final shot in the building, so he had Leonard come out to hit a layup after the workout ended. Equipment manager/prankster Joe Qatato grabbed a ball and hit a shot after Leonard's, so Slick had to do it again. 

His opinion still carries weight. When the Pacers were on the verge of elimination from their first-round playoff series with Atlanta this past season, trailing 3-2, he called coach Frank Vogel. Vogel called him back within five minutes, and Leonard offered his thoughts on the lineup he thought would be most effective against the Hawks. Vogel agreed, although not to the extreme Leonard suggested, and the Pacers came back to win the final two games of the series.
(Hear his One on One episode here. And here.)
Tagged with:
Boom Baby
,
Indiana Pacers coach
,
Naismith Basketball Hall of Fame inductee
,
Nancy Leonard
,
Slick Leonard