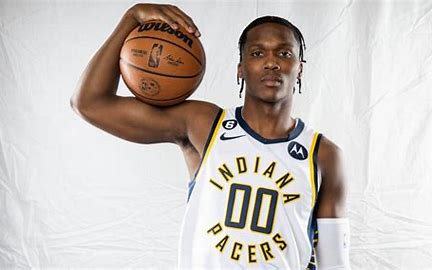 Seven games into his career, it isn't too early to pass judgement on Bennedict Mathurin. Not because of his stats, which are impressive enough, but because of what you see in the nooks and crannies of the game.
Mathurin is off to the best start of any rookie in the history of the Pacers franchise. That includes the three players who went on to be inducted into the Naismith Hall of Fame and the one who was voted the NBA's Rookie of the Year. He's averaging 21 points in 27.7 minutes off the bench, along with 4.6 rebounds, 2.3 assists and 1.7 turnovers, while hitting 43 percent of his three-point shot attempts.
That debut compares favorably to the first seven games of:
Roger Brown, who averaged 21.1 points in 1967. Complete stats weren't available in the early days of the American Basketball Association, so Brown's rebounding and assists totals are unknown. Brown, however, had yet to hit a three-pointer – that would come in his 13th game – and it's unlikely he was flashing the complete skillset and tenacity displayed so far by Mathurin, given the nature of the remainder of Brown's standout career. Brown took pride in conserving energy. "I'll be ready at money time," he often said, meaning he saved his aching back and knees for the playoffs.
George McGinnis, who like Mathurin had turned pro following his sophomore season of college. McGinnis averaged 9.6 points and 6.9 rebounds in 17.1 minutes in 1971.
Chuck Person, who averaged 14.4 points, 8.9 rebounds and 2.3 assists in 32.6 minutes per game in 1986. Person, who was named Rookie of that Year that season – the only one in Pacers' history – had hit just 1-of-8 three-point shots at that point.
Reggie Miller, who averaged 17.3 points, 2.4 rebounds and 2 assists in 28.1 minutes in 1987. Miller, who started just one game as a rookie – when John Long was injured – gave plenty of hints of what was to come in his first seven games, such as by hitting half of his three-point shots but didn't quite produce as much as Mathurin despite getting slightly more playing time. He also was coming off a four-season college career, two more than Mathurin.
As nice as the numbers are, however, Mathurin has other qualities that provide better reasons for Pacers fans to be excited about his future. Most notably, consistent hustle and a demeanor that is always serious and often angry. His intangibles were on full display in Saturday's nine-point victory at New Jersey, which he finished with 32 points on 8-of-16 shooting (6-of-9 from three-point range).
Mathurin didn't enter that game until 4 minutes, 19 seconds remained in the first quarter. He had 19 points with 3:21 left in the second quarter and 22 points in his 16 first-half minutes. But certain moments in the second half, and even one outside of game action, gave a better indication of why he's off to such a great start.
He started the second half and hit a three-pointer on the Pacers' first possession. He didn't pause to celebrate, however. Moments later, he fought to get over a screen near the three-point line and got a hand up to challenge Kyrie Irving, who lobbed a pass inside.
Later in the period, Jalen Smith missed a three-point shot from the right corner. Mathurin came from underneath the basket to grab the rebound off the floor 15 feet from the basket and draw a foul from Ben Simmons.
In the fourth quarter, he bulldozed Simmons while fighting through a screen and was called for a foul. With Simmons standing at the foul line, an irritated Mathurin held out his hand to offer a shake, although it appeared to be more a sarcastic gesture than one of sincere apology - a response to Buddy Hield trying to calm him down rather than feeling sorry for Simmons.
On the possession that followed, Tyrese Haliburton – Reason 1A for Pacers fans to be optimistic about the team's future – missed a three-point shot from the right corner. Mathurin grabbed the weakside rebound and passed out to Hield. After resetting the offense, Hield passed back to Mathurin who missed a three-point shot from the left wing. Smith grabbed the rebound and passed out to Hield, who missed another three-pointer. Mathurin, however, swept in from foul lane and beat Simmons again for the rebound off the floor and drew a foul.
Mathurin has a knack for drawing fouls, providing the most obvious statistical indicator of his demeanor. He leads the Pacers with 41 free throw attempts despite playing the third-most minutes. Hield, who has played nine more minutes, has attempted just six free throws. Hield's primary role, of course, is to shoot three-pointers. But his percentage on those shots (.446) is barely better than Mathurin's (.432).
Only select players have enough confidence and toughness to influence an entire team's demeanor. Mel Daniels did it in the ABA. Reggie Miller did it through much of his career. David West did it for a few seasons. Lance Stephenson did it in brief stretches. Mathurin already is becoming that guy. It takes more than grabbing long rebounds and drawing fouls, though. Words send a message, too, and Mathurin fills that role as well, whether he's talking to teammates or fans.
Jeremiah Johnson's walk-off interview at halftime of Saturday's game was telling for its bluntness and brevity.
Johnson opened by asking Mathurin what sparked the Pacers' comeback from a 10-point deficit to a one-point lead.
"Pretty much taking better shots and finding our open teammates," said Mathurin, making eye contact but sounding and looking like he had better places to be, such as the team's locker room.
Johnson took note of Mathurin's diligent pre-game warmup and asked how "locked in" he felt in the first half.
"Yesterday (at Washington against the Wizards) I had an OK game, but I felt like today I needed to step up a little bit more," Mathurin said. "So, I was feeling locked-in coming into the game."
"This was fun to watch, how much fun are you having playing?" Johnson asked.
"I love it. I love it, man."
That's all, folks. No brags, just facts.
Mathurin needs no hype. He states his case every time he plays. He'll go through the usual rookie orientation process, but it's already clear he and Orlando's Paolo Banchero are the only two legitimate candidates for Rookie of the Year honors. But whether or not he becomes the second Pacer to win the honor, he is clearly destined for greatness.
Seriously.
Tagged with:
Bennedict Mathurin
,
Chuck Person
,
George McGinnis
,
Mel Daniels
,
Reggie Miller
,
Roger Brown