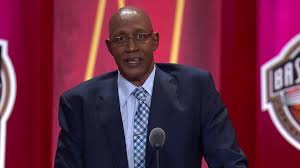 George McGinnis was a late arrival to the Naismith Basketball Hall of Fame, having been left off the invite list until 2017. He didn't get in via the special committee formed to admit players from the American Basketball Association, and when that group was disbanded he all but gave up hope.
He was inducted the following year through the veteran's committee, however, so it all worked out. Credit must be given to Rick Barry for playing an instrumental role in McGinnis being selected. Barry had played against McGinnis enough times to realize his worthiness. He was a member of the veteran's committee and apparently convinced the other members to select McGinnis. 
This story was published after he had been announced as an inductee but before the ceremony. I was flattered that he asked me to help with his speech and he did a great job delivering it. He veered off script a few but that certainly was his right.    
To explain the prestige and dominance of George McGinnis in his prime, let's start with the witch.
The Indiana Pacers were playing Denver in the second round of the ABA playoffs in 1975. The Nuggets, coached by Larry Brown, had finished the regular season with a league-best 65-19 record and had lost only two games on their home court. The Pacers won Game 2 in Denver, however, after importing Dancing Harry, a popular "mascot" of the era who wore a cape and floppy hat and put jinxes on opposing teams during timeouts by shaking his hands at them.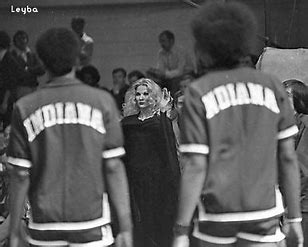 So, with the series tied when it returned to Denver for Game 5, the Nuggets countered by bringing out a woman dressed as a witch, complete with broom and a "cauldron" of dry ice, and dubbed her "Robota." She stood at the Pacers' end of the court next to a life-sized cutout of McGinnis and stared at him menacingly all through pre-game warmups. During timeouts, she stood behind the Pacers' bench and held up her right hand, separating her second and third fingers from the fourth and fifth, to apply her own hex.
"It got a little weird for me," McGinnis recalls. "It did kind of bother me a little bit."
---
Tagged with:
George McGinnis
,
Indiana Pacers
,
Robota the Witch