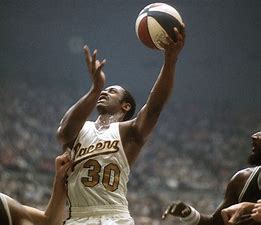 Triple-doubles are impressive productions in an NBA game. Triple-doubles in an NBA playoff game are even more special, coming in a pressure-packed environment against a quality opponent.
Only three Pacers have managed the feat in the franchise's NBA history, and never more than once. One Pacer, however, practically made it seem routine one season.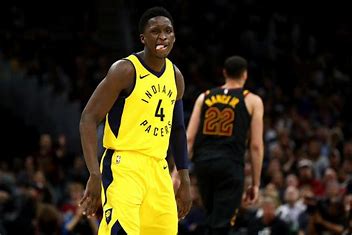 Victor Oladipo is the most recent Pacer to put up double figure totals in scoring, rebounding and assists in a playoff game. He had 28 points, 13 rebounds and 10 assists in a 34-point victory over Cleveland in Game 6 of their first-round series in 2018.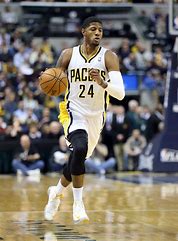 Paul George did it in Game 1 of the first-round series with Atlanta in 2013 with 23 points, 11 rebounds and 12 assists. He hit just 3-of-13 field goal attempts, but attempted a career-high 18 foul shots and made 17.
"I was just telling myself, 'Keep attacking,'" George said. "My mindset is (on the) next play.  I just told myself to try to get to the free throw line, stay in attack mode."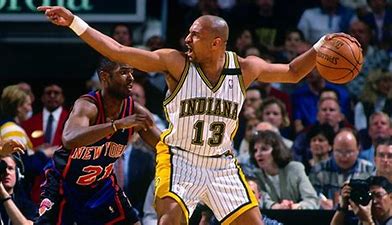 Mark Jackson did it in Game 5 of a second-round series in 1998, when the Pacers closed out New York, finishing with 11 points, 14 rebounds and 13 assists.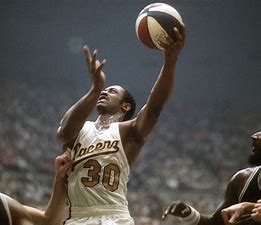 Plenty of fuss was made over those achievements at the time, understandably so. But if George McGinnis, was the type to gloat (he isn't) he could be forgiven for standing back and rolling his eyes. Because he has six playoff triple-doubles in the ABA, five in one season.
McGinnis, whose No. 30 jersey hangs in the fieldhouse rafters, reached the peak of his career in the 1974-75 season, when the stars aligned on his behalf. He was young, just 24 years old. But he also was experienced, playing in his fourth professional season after leaving Indiana University following his sophomore season. And he was by far the best player on the team because the core group that had won three ABA titles – Mel Daniels, Roger Brown and Freddie Lewis – had been traded away the previous summer. He was without question the go-to guy on the team, able to play freely without fear of being benched for taking a bad shot or committing a turnover.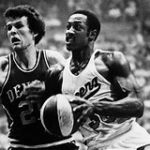 McGinnis averaged 32.3 points, 15.9 rebounds, 8.2 assists and 6.2 turnovers in 18 playoff games that season as the Pacers defeated both San Antonio and Denver in six games before losing to Kentucky in five. He had five of his triple-doubles against the Spurs and Nuggets and those games included two quadruple-doubles of a less-desirable variety, as he twice reached double figures in turnovers.
Here's the breakdown:
42 points, 24 rebounds, nine assists and 10 turnovers on April 10, a 113-103 victory over San Antonio.
51 points, 17 rebounds and 10 assists on April 12 in a 110-109 loss to San Antonio.
32 points, 23 rebounds, 14 assists and 11 turnovers on April 16 in a 115-100 win over San Antonio.
33 points, 21 rebounds and 14 assists on April 24 in a 122-118 win over Denver.
26 points, 14 rebounds, 10 assists and 12 turnovers on April 30 in a 104-99 loss to Denver.
"Oh, my God," McGinnis said when the numbers were read to him over the telephone. "If I could have gotten rid of the turnovers, I would have been something.
"I was a turnover king."
To say the least, the offense ran through McGinnis that season. He and rookie forward Billy Knight handled the ball much of the time, especially against teams with quick guards, and often initiated the offense. McGinnis turned in the finest single-season performance in franchise history, leading the team in scoring (29.8), rebounds (14.3), assists (6.3), steals (2.6) and turnovers (5.3).
McGinnis had one other triple-double in his ABA playoff career, in 1974, when he had 29 points, 14 rebounds and 10 assists against Utah.
The only other Pacer to compile an ABA playoff triple-double was Roger Brown, who had 17 points, 11 rebounds and 10 assists in the final game of the team's inaugural season, when it was swept by Pittsburgh in the first round.
McGinnis left the Pacers following the 1975 playoffs to sign with Philadelphia of the NBA. He was a two-time All-Star there and made the All-Star game a third time after a trade to Denver. He was traded back to the Pacers during the 1979-80 season and retired after being released in training camp in 1982.
All these years later, the memory of his peak remains vivid to those who saw it.
"He was outta sight in that series (in 1975)," said Bob "Slick" Leonard, who coached McGinnis in his ABA seasons.
"No question about it, he was a talent. His prime didn't last that long, but things happen. You have to be truthful about it. But that's as good as you can play. He put the team right on his back."
Tagged with:
George McGinnis
,
Mark Jackson
,
Paul George
,
Roger Brown
,
Victor Oladipo