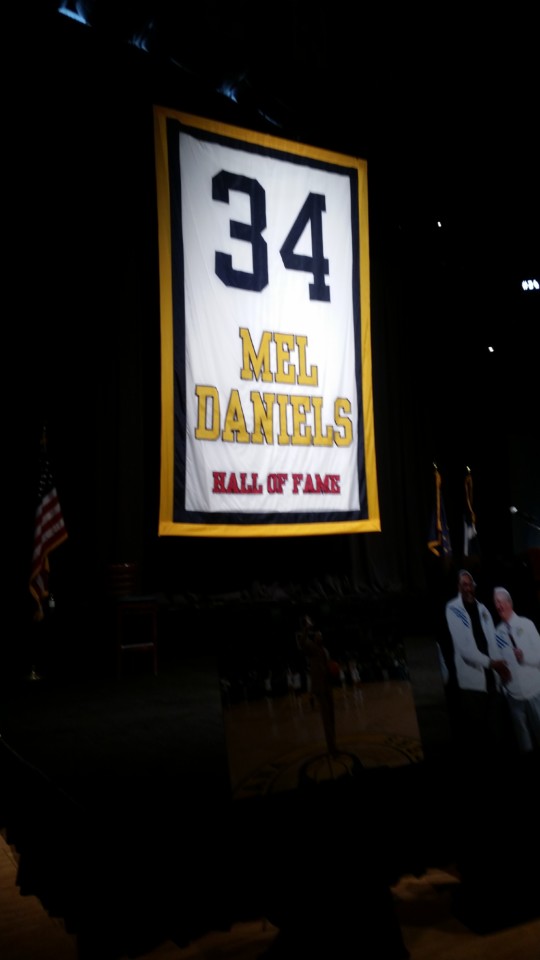 This is the most complete story ever published on Mel Daniels, written on the eve of his induction into the Naismith Basketball Hall of Fame. I was pleased he was the first of the Pacers players to go into the Hall because he was the heart and soul of the teams that won three ABA championships. 
Daniels passed away on Oct. 30, 2015, the day after attending the Pacers' home opener. He had undergone heart surgery a couple of weeks earlier, and suffered from heart problems for many years, so it didn't come as a shock. But then again, it did. I nearly always saw him at the games, but didn't on this occasion. I missed him that night, and like everyone else who knew him, I miss him now. He was ornery, overly emotional, sometimes unreasonable. But he also was passionate, ego-free and empathetic. 
I was honored to be among the speakers at his memorial service at Bankers Life Fieldhouse on Nov. 5, and was impressed with the number of friends who traveled great distances to attend. Reggie Miller (California) and Jeff Foster (Texas) spoke at the service, and Billy Keller (Florida), Billy Knight (Atlanta), Dale Davis (Atlanta), Peter Vecsey (New York), Clark Kellogg (Ohio), former Minnesota teammate Sam Smith (Kentucky) and Ira Harge (New Mexico) all attended the service. Former Pacers Stuart Gray, Dave Robisch also came from out of state, as did some former Pacer front office employees. Their mere presence spoke more eloquently about his impact on people than anything anyone could have said about him that day.

[T]he versions of the story vary slightly, but offer the same conclusion.
According to Will Robinson, physical education teacher and basketball coach at Detroit's Pershing High School, the name on his class roll had gone unclaimed for a couple of week, so he went looking for the truant. He finally caught him as he rounded a corner in the hallway and ordered him to the gymnasium.
That was on a Monday. By Wednesday, the kid still had not appeared in class, so Robinson went looking for him again and ordered him to the gymnasium.
The way Mel Daniels, the skinny and evasive sophomore, remembers it, he was ordered to report to the gymnasium at 3:30 to join the basketball team.
"Chief, I want you in the gym today," Daniels recalls Robinson telling him. "If you're not in the gym I'm going to come get you and beat your ass."
Either way, that figurative foot in the backside set in motion a career and a life. One way or another, Daniels wound up on the basketball team. He was fitted with a pair of black high-top Chuck Taylor Converse shoes that were a size-and-a-half too long. Daniels grew into his shoes, grew into the game and ultimately grew into a Hall of Fame player. Official confirmation of that will come this weekend at the induction ceremony at the Naismith Memorial in Springfield, Mass., where he'll accept his slice of basketball immortality.
***
Daniels' journey — from frightened mid-sized teenager, to junior college, to major college stardom, to two-time Most Valuable Player of the ABA and backbone of three Indiana Pacers championship teams, to Hall of Fame inductee — stands out among all Hall of Famers for its unlikely nature. Surely none of the others waited as long to begin learning the game as Daniels, and take up the game so fatefully. He not only had never played in a basketball game when Robinson accosted him in the hallway, he had never watched one. There were playgrounds all over Detroit in those days, not to mention a university and professional team within the city limits, but he says they all had somehow escaped his notice.
---
Tagged with:
ABA Most Valuable Player
,
Mel Daniels
,
Will Robinson