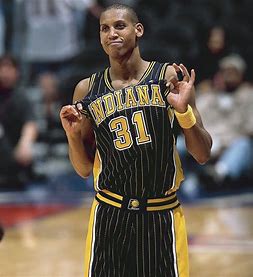 You know him for his playoff heroics. You know him for playing 18 seasons with the Pacers (and nobody but the Pacers). You know him for the I-love-being-the-enemy stuff, such as the choke sign to Spike Lee, not to mention the crotch grab. You might even know him for the I'm-actually-a-good-guy stuff, such as the charity work and school visits, often performed without fanfare.
But there is plenty you don't know about Reggie Miller.
Not about the person, per se. His life has been chronicled well enough in print and video. To condense it to a paragraph, he was one of five children born to Saul and Carrie Miller in Riverside, Calif., all of whom have gone to successful lives beyond athletics because of the nurturing and discipline instilled by their parents. He was born with a deformity that required him to wear leg braces for a couple of years as a child, but it didn't earn him many favors when playing with his siblings. Thus, he learned to compete early.
But much about Miller's career has gone unnoticed, or at least underappreciated, because the nuances have been smothered by all of those peak playoff moments: The 25-point fourth quarter in 1994 and eight-points-in 8.9-seconds spree in '95, both under a worldwide spotlight in Madison Square Garden … the brushoff of Michael Jordan and all-in-one-motion three-pointer off an inbound pass to beat Chicago in 1998 … the consecutive games of 41 and 40 points at home to close out Milwaukee and, two days later, kickstart a series with Philadelphia in 2000 … the 34-point game – 17 in the fourth quarter – to close out New York in the 2000 conference finals that advanced the Pacers to the NBA Finals … the banked 35-footer that forced an overtime in the final game of the series with New Jersey in 2002, followed by the dunk that forced a second overtime.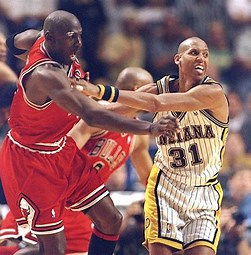 All of that and more. But moments such as those were propped up by a mountain of minutiae that made his career more of a case study than a highlight reel. He played the game like someone who was raised well would play it, and that's what made him a Hall of Famer.
Well, maybe not. Maybe the outlandish highlights are what got him in, who knows? But it was all the mundane achievements that made the climactic moments possible. They also are what made him a "winning player." That's a nebulous description, but we all know of great players who don't seem to contribute to winning big, just as we know of less talented players who do. Miller contributed substance to go with the highlights.
Some people argue he's overrated, being a widely known Hall of Famer who played in "just" five All-Star games throughout 18 seasons and was never better than a third-team all-NBA selection, a feat achieved "only" three times. I go the other way. I think he's underrated. Take away his top 10 playoff highlights and you still have a Hall of Fame career. Sure, Reggie is not on the same level as Michael, Kobe, LeBron and other first-name legends. But for a skinny guy who relied more on discipline, smarts and confidence than raw athleticism he had a career for the ages – and a better one than you probably realize unless you've bothered to take a deep dive into the details.
Here, I'll do it for you:
---
Tagged with:
Reggie Miller