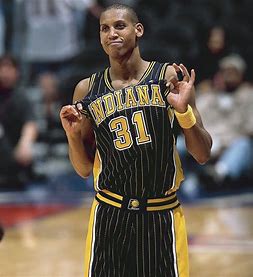 You know him for his playoff heroics. You know him for playing 18 seasons with the Pacers (and nobody but the Pacers). You know him for the I-love-being-the-enemy stuff, such as the choke sign to Spike Lee, not to mention the crotch grab. You might even know him for the I'm-actually-a-good-guy stuff, such as the charity work and school visits, often performed without fanfare.
But there probably is plenty you don't know about Reggie Miller.
Not about the person, per se. His life has been chronicled well enough in print and video. To condense it to a paragraph, he was one of five children born to Saul and Carrie Miller in Riverside, Calif., all of whom have gone to successful lives beyond athletics because of the nurturing and discipline instilled by their parents. He was born with a deformity that required him to wear leg braces for a couple of years as a child, but it didn't earn him many favors when playing with his siblings. He learned to compete early.
But there is much about Miller's career that has gone unnoticed, or at least underappreciated, because the nuances have been smothered by all of those peak playoff moments. The 25-point fourth quarter in 1994 and eight points in 8.9 seconds in '95, both under a worldwide spotlight in Madison Square Garden ... the brushoff of Michael Jordan and all-in-one-motion three-pointer off an inbound pass to beat Chicago in 1998 ... the consecutive games of 41 and 40 points at home to close out Milwaukee and, two days later, kickstart a series with Philadelphia in 2000 ... and then the 34-point game - 17 in the fourth quarter - to close out New York in the conference finals and advance the Pacers to the NBA Finals ... the banked 35-footer that forced an overtime in the final game of the series with New Jersey in 2002, followed by the dunk that forced a second overtime.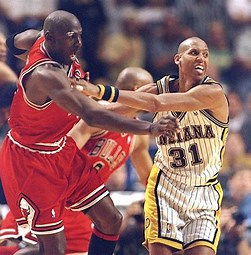 All of that and more. But moments such as those were propped up by a mountain of minutiae that made his career more of a case study than a highlight reel. He played the game like someone who was raised well would play it, and that's what made him a Hall of Famer.
Well, maybe not. Maybe the outlandish highlights are what got him in, who knows? But it was all the mundane achievements that made the climactic moments possible. They also are what made him a "winning player." That's a nebulous description, but we all know of great players who don't seem to contribute to winning big and less talented players who do. Miller contributed substance to go with the highlights.
Some people argue he's overrated, being a widely known Hall of Famer who played in "just" five All-Star games throughout 18 seasons and was never better than a third-team all-NBA selection, a feat achieved "only" three times. I go the other way. I think he's underrated. Take away his top 10 playoff highlights and you still have a Hall of Fame career. Sure, Reggie is not on the same level as Michael, Kobe, LeBron and other first-name legends. But for a skinny guy who relied more on discipline, smarts and confidence than raw athleticism he had a career for the ages - and a better one than you realize unless you've bothered to take a deep dive into the details.
Here, I'll do it for you:
He was efficient
It doesn't do a team any good if its leading scorer has a poor field goal percentage. In fact, it does a lot of harm. But a scorer who happens to be an accurate and high-volume three-point threat and hardly ever misses a free throw is invaluable.
That was Miller. Anyone who watched him play knows that, but a couple of the modern-day "advanced" stats help explain it.
His "true" career shooting percentage, which combines field goal and free throw percentages, was .614. Free throws count, too, so it makes sense to factor them into the equation. One can only imagine how many games Miller won for the Pacers by hitting .888 from the foul line over 18 seasons and surpassing 90 percent in eight seasons.
He also almost never missed an important free throw in the closing minutes of a tight game. In fact, he once told me that doing so in the final seconds of a home game against Orlando on Jan. 16, 2005 convinced him to retire after that season.
The Pacers trailed by three points when Miller stepped to the line with 3.3 seconds remaining. He would have three foul shots, having drawn a foul on a three-point attempt. With threes wild, it seemed a given he would make them all. But he missed the first, drawing a collective gasp from the fans. He made the second to narrow Orlando's lead to two points and then tried to miss the third attempt by throwing a high-arching shot intended for the back of the rim, hoping it would bounce far enough to be rebounded by a teammate and scored. But it, too, swished. Couldn't miss even when he tried - that seemed more like Miller than missing one he needed to make.
"I never thought that ever, ever, ever would happen," Miller told me a few months later. "I thought, There's no way. This would never have happened before."
It's an exaggeration to say that lone failure caused his retirement. He had decided long before then he wasn't going to play into his Forties and he had tipped off his intent before the season began, telling reporters on media day that fans better come to a game that season if they wanted to see "Uncle Reg" one last time. More likely, the miss merely confirmed his plan.
Still, it stunned fans who by then assumed he would make every crucial foul shot, and it rattled him as well. In a backward sort of way, that exceedingly rare failure defined his greatness at the foul line as well as all those makes.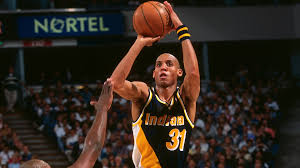 He also excelled in "effective" career shooting percentage, which accounts for the added value of three-pointers. His was .544. That stat gives extra credit to the player who hits a few three-pointers while going 10-of-20 from the field as opposed to the one who goes 10-of-20 without hitting a three.
Miller is the runaway leader in Pacers history in both statistical categories. Nobody else comes close, really. Paul George, for example, had a true shooting percentage of .531 and an effective percentage of .512. Victor Oladipo is at .536 and .494, respectively.
Miller also was superior to the likes of Kobe Bryant and Michael Jordan in these categories. That doesn't make him a better player than them, but it does make him a more efficient player.
He's no Steph Curry, however. Curry, who has hacked the game with his long-range shooting, has a true percentage of .623 and an effective percentage of .581. He's a high-volume three-point shooter with a career .435 rate of accuracy and an even better free throw shooter than Miller at .906.
Still, if every shot attempt is an investment in the game's outcome and every make brings a positive return, Miller stands as one of the more profit-generating players in NBA history.
He drew fouls
There's not much point in being an accurate free throw shooter if you don't get to the line very often. Might as well be a skilled handyman without a complete toolbox.
Drawing fouls is one of the more underrated skills in basketball. Aside from creating an opportunity for easy points it also can put one of the opponent's better players in foul trouble and out of the game.
That's been a major issue for the Pacers lately. They ranked last in the NBA in free throws made and attempted as well as last in three-point attempts this past season. That's a bad combination and likely was the greatest factor in coach Nate McMillan being fired. They were never better than 23rd in free throw attempts during his four seasons.
Miller could have improved that stat all by himself.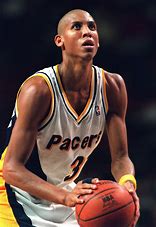 He averaged 5.1 foul shots over his career and six attempts in his peak years from 1988-89, his first as a starter, to 1999-2000 when the Pacers reached the Finals a couple of months before he turned 35. That pales in comparison to some of the game's greats but is a good number for someone whose primary workspace was on the perimeter and wasn't athletic enough to take defenders off the dribble and into the foul lane where contact is more frequent.
Miller's roadmap to the free throw line was paved by savvy. All those head fakes, leans, flops and leg kicks drew a lot of fouls.
Many nights, half of his points came from foul shots. In Game 4 of the 1994 playoff series with New York, the one before the game with his 25-point fourth quarter, he attempted just one three-pointer - and missed it - but scored 31 points while making 17-of-19 free throws. And, sure, you remember his flurry of eight points in 8.9 seconds in 1995, but do you know he hit 14-of-15 foul shots in that game? He scored 41-points when the Pacers eliminated Milwaukee in the first round of the 2000 playoffs, eight of them from the foul line in 10 attempts. Two days later, in the first game of the second-round series with Philadelphia, he scored 40 points while hitting 11-of-12. That 34-point performance, 17 in the final quarter, to close out the Knicks in the conference finals was boosted by hitting all nine free throws along the way.
It's an easy point to get. Free throws don't make the highlight reels, but often make them possible.
There's a stat for this, too: Free throw rate. You arrive at it simply by dividing free throw attempts by field goal attempts. The higher the better. It's a reflection of efficiency beyond shooting percentages, a stat for the players who contribute by stopping the clock and hitting uncontested shots.
Miller's career percentage for free throws per field goal attempt was .402. In his peak seasons, his rate was .429. That's proof of his activity and gamesmanship but also of his shot selection because bad shots are rarely fouled.
Oladipo, by contrast, has a free throw percentage rate of .261 in his three seasons with the Pacers.  Paul George was at .301 as a Pacer. Cranking up the wayback machine, Roger Brown was at .385 and Mel Daniels at .367. George McGinnis, a physical specimen who loved contact, had a .450 rate for his career. He somewhat squandered that asset, however, by hitting just .664 of his foul shots.
Miller thrived on it.
He didn't turn the ball over
Miller averaged 34.3 minutes of playing time in his 1,389 regular season games but just 1.7 turnovers. In other words, he treated the ball more like a precious jewel than a dirty rock.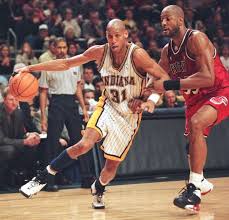 He also had a positive assist-to-turnover ratio in each of his 18 seasons. That might not sound like a big deal but actually is for any player whose primary job description is to score. Among other Pacers of a similar ilk, Billy Knight and George McGinnis rarely had more assists than turnovers in a season. Jermaine O'Neal only did it once, in the last of his eight seasons with the Pacers, and then just barely. Danny Granger broke even, averaging 1.9 assists and 1.9 turnovers for his career.
Miller's low turnover numbers partially reflected his careful style of play. His was a classic old-school two-guard's game, scampering off screens in search of open jumpers. He rarely went one on one and when he did he was usually head-faking and jab-stepping his way into a three-point attempt. Low-risk stuff.
By comparison, Oladipo has averaged 2.7 turnovers in his seasons with the Pacers over 32.5 minutes per game. That's understandable because he has a more athletic and demanding style of play, often looking to penetrate through traffic to the basket. It follows that Oladipo has averaged 4.3 assists in his three seasons with the Pacers while Miller averaged 3 in his 18.
Still, Miller's ball-protection was vital to the Pacers' long-term success. Can you think of a single time he committed a turnover on a crucial play at the end of a close game? Fumbled a pass? Dribbled the ball off his foot? When your go-to scoring threat is playing basketball rather than kick the can, the odds of winning are greatly enhanced.
He was consistent
Miller had multiple 30-point games in each of his 18 seasons except for 2002-03 when he played on two bad ankles, one of which required surgery shortly after the season ended. He settled for a 28-point game in that one.
He even "shot his age" in his final season, scoring 39 points at age 39 in a home game against the Lakers in March of 2005. He hit 13 of his 18 field goal attempts and all 10 foul shots in that victory.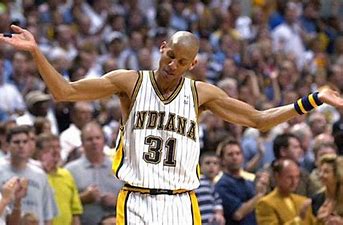 Perhaps the best measure of his consistency is his scoring average on a per-minute basis. He scored 16.7 points for every 36 minutes of playing time in his final season, nearly identical to his 16.8 average over the same segment of time in his first season as a starter, 16 years earlier. And while his field goal percentages declined toward the end of his career as his fast-twitch muscles began to rust, he saved his best free throw percentage for last. He shot a career-best .933 in his final season, despite that agonizing miss against Orlando. He closed out the regular season by hitting .966 over the final 32 games and then hit .941 in 13 playoff games.
That kind of persistent production requires more than shooting touch. It reflects a high level of discipline in and out of the season, something instilled in Miller from childhood. He was the first or second player to show up at the arena for each game and went through a rigid pre-game ritual of shooting, stretching and massage. He trained hard in the off-season as well.
It didn't hurt being naturally slender, which put less stress on his joints and helped him maintain enough quickness to survive 18 seasons. But Miller earned his longevity.
He thrived on pressure
The games are more difficult in the playoffs. Duh.
Every opponent is at least good, and some are great. Game plans are honed to the smallest details by repeatedly playing the same opponent, making it a greater challenge to score. Players tend to ramp up their defensive effort. The pressure is greater, too, and fatigue is more of a factor after a long regular season despite the absence of back-to-back sets.
Most players struggle more in that environment, but the great ones tend to rise up. Miller certainly did. One could practically write a book about all his memorable playoff moments, beginning with that 25-point fourth quarter in Madison Square Garden in 1994. He produced more than highlights, though.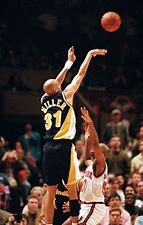 His career scoring average was greater in the playoffs (20.6) than in the regular season (18.2). Ignore his final three seasons, after he turned 36, and the improvement was even greater in the postseason. The 2003 playoffs on those bum ankles was a particular drag, as he averaged just 9.2 points on 28 percent shooting. His improving scoring average in the playoffs was partly the result of playing 2.6 more minutes per game because his field goal shooting percentage dropped off slightly but it also reflected his ability to get to the foul line. He averaged 5.1 foul shots for his career in the regular season, but 6 in the playoffs.
Michael Jordan, Kobe Bryant and Jerry West also raised their scoring averages in the postseason, but it doesn't always work that way for the great ones. Larry Bird's scoring average dropped off slightly. Oscar Robertson's dropped off noticeably. Wilt Chamberlain's dropped off significantly. It almost had to. That season (1961-62) in which he averaged 50.2 points per game, he averaged "just" 35 in the playoffs.
Beyond the statistical averages, Miller also saved his greatest clutch moments for the playoffs. It's easy to recall highlights from his postseason play, but more difficult to do so for regular season games despite the massive difference in quantity. He hit big shots in the one-of-82 games, of course, but delivered his greatest dramatic performances on the bigger stages of the postseason. Quite the opposite of many players.
He wasn't greedy
It's one thing to score a lot. It's another to score a lot without shooting too often or unwisely. For a player whose role was to score, Miller was unusually generous.
He never took more than 29 shots in a game and reached that total just once, in his career-high 57-point outing at Charlotte in the 1992-93 season. He hit 16 of those attempts that night, so the quality justified the quantity. Even then, he remained unselfish. He had eight assists, three shy of his career high. Afterward, he said his teammates and coach Larry Brown had encouraged him to be more aggressive looking for his shot. They needed him to play that way to win. It's telling that his coach and teammates had to prod him to shoot more.
All of the other premier scorers throughout Pacers franchise history broke the 30-shot barrier at least once: Mel Daniels (38), George McGinnis (35), Roger Brown (33), Paul George (33), Chuck Person (32), Oladipo (30) and Billy Knight (30). Granger, if you want to include him in that category, never took more than 28 shots but he averaged more attempts per game in his peak seasons than Miller ever did, by as many as 3 1/2.
The Pacers record-holders for shot attempts in an NBA game are Super John Williamson and Jalen Rose, both of whom took 34 attempts. Williamson did it in a 43-point outing against Golden State in November of 1977. He hit 18 of them and the Pacers won, so no worries. Rose had to play 60 minutes, 52 seconds in a triple-overtime loss at Houston in the 2000-01 season to get to 34 attempts. He hit 16 of them and scored 39 points.
Person peaked with 32 shots against Boston in the 1989-90 season and took 30 against the Knicks in Madison Square Garden the previous season, on Jan. 31, 1989. He hit 18 of them and scored 47 points. But the Pacers lost. Miller played 43 minutes in that game, same as Person, but got up just eight shots and hit two.
Nobody watching that game could have predicted Person later would be traded to improve team chemistry and make Miller the unchallenged premier scoring threat or that Miller one day would be haunting Knicks fans - and delighting Knick-haters the world over - in the Garden. He was just a harmless sidekick that night.
He was a willing sidekick
Speaking of which …
Ego can be a great asset for professional athletes, but it can come back to embarrass them if they don't adjust to their physical decline and accept a lesser role. That's truer in basketball than any other sport.
Miller adjusted gracefully.
He had an ego, of course. You don't don a Superman T-shirt in pregame warmups for two playoff games against Milwaukee in 2000 if you don't. But that was the showbiz side of him, a ploy to motivate himself and give confidence to his teammates. He always put aside his ego in the ways that mattered during games.
Fact is, Miller was as comfortable out of the spotlight as in it, a rarity for a star player. Growing up amid a strong family structure with two older brothers and an older sister set him up to thrive in the group dynamic of a basketball team. It was his nature to defer to older players, having been raised in the "little brother" role.
As a Pacer, he started only one game as a respectful rookie and graduated to becoming the leading scorer in his third (1989-90). Still, he had no trouble stepping back for a hot teammate. That was most obvious in the 1991 playoff series with Boston when Person nearly led the Pacers to a first-round upset by averaging 26 points over five games. Miller had been the team's leading scorer in the regular season, and in the previous one as well, but gracefully slid back to a Robin role. He took four fewer shots per game than he had in the regular season while Person enjoyed his peak career moments.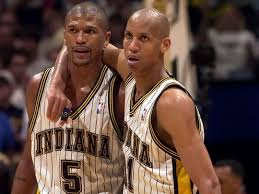 More impressively, Miller deferred to younger players later in his career. After leading the Pacers in scoring for 10 consecutive seasons he moved over for Jalen Rose in 1999-2000, Rose's first as a starter. Rose averaged 18.2 points while Miller averaged 18.1, so it wasn't exactly a shifting of tectonic plates. Miller, though, wanted Rose to assert himself and gain confidence heading into the playoffs and kept the bigger picture in mind.
Miller resumed his go-to role in the postseason, averaging 3.2 more points than Rose.
After his decade of dominance, Miller became the Pacers' second-leading scorer for two seasons, then the third for one, then the fourth for two and, finally, the fifth. Most five-time all-stars and future Hall of Famers couldn't handle stepping out of the spotlight so gradually and gracefully. Miller had a me-too movement going at the end of his career while other great scorer maintain a me-first approach.
Kobe Bryant, for example, kept chucking to the very end. Bryant's field goal percentage fell below 40 percent each of his final two seasons (and below 30 percent from three-point range) but he stayed on top of the Lakers' scoring pylon through sheer misguided stubbornness. Bryant averaged 20.6 shots in his second-to-last season at age 36 and 16.9 attempts in his final season.
Jordan took the same approach when he came out of retirement to play for Washington after three years of retirement. He took 22.1 shots per game his first season with the Wizards and 18.6 his final season at age 39.
Miller never averaged more than 15.7 shots, and that was at age 24. By the time he reached age 39 in his final season he was down to 10.9 shots per game. That was the least among the starters although he had the third-best field goal percentage.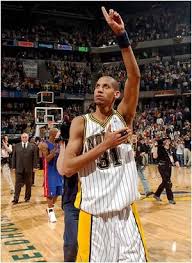 True to form, he rose up to become the third-leading scorer in the playoffs and had the second-best field goal percentage among the starters. Even truer to form, in his 1,533rd and final game as a Pacer, playoffs included, he was the leading scorer with 27 points. He played 33 minutes that night and hit 11-of-16 shots, including 4-of-8 three-pointers. He only got to the foul line once, but he hit it. Only had two turnovers as well.
The loss aside, it was an appropriate summation of a career with more substance than highlights.
Tagged with:
Reggie Miller