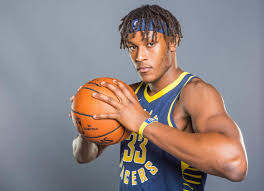 This article, written during Turner's rookie season, can be read from a different perspective today. Then, he was so full of promise that team president Larry Bird predicted he would become the greatest Pacer ever. Perhaps that was meant merely as a motivational ploy, but it was heady praise nonetheless. 
With the hindsight of today, Turner is regarded by many as a disappointment. Some fans and media members are calling for him to be traded, as if he is to blame for recent disappointments or because his style of play no longer fits NBA trends. It's hardly that simple, but that's where we stand.  
Statistically, Turner hasn't seemed to improve in any substantial manner since his second season. He did stand out during the playoff series with Miami in the Orlando bubble in 2020, however. Freed somewhat by the absence of center Domantas Sabonis, he averaged 15.8 points, 10.8 rebounds and four blocks when the Pacers were swept by the Heat. 
It's instructive to look back on a promising rookie's season and realize that potential often runs into roadblocks. Turner has a lot of basketball ahead of him, however. He's still young, has maintained his work ethic and maturity, and no doubt will continue to improve. Big men don't normally reach their peak until their late twenties. The praise given here for his post-up game, however, has proved to be premature. He needs to keep working on that to fulfill his potential.
Here's how things looked in 2016, late in Turner's rookie season, when his future seemed limitless. 
Donnie Walsh has seen more than a few prospects work out before the NBA draft in his decades as a general manager, president and consultant. But this kid walking through the door to the practice court at Bankers Life Fieldhouse last June? This kid got his attention.
"Holy —-," Walsh muttered.
"What's wrong?" a few people sitting near him asked.
"I had no idea this guy was that big a presence," Walsh said.
Walsh had just taken his first up close and personal look at Myles Turner, one of the draft candidates to be viewed, tested and analyzed that day. Frank Kaminsky, who had completed four seasons at Wisconsin and earned national Player of the Year honors, was there, too, for the specific purpose of going up against the 19-year-old from the University of Texas and helping the Pacers choose between the two.
Turner stood out that day, not only for how he played but for how he comported himself with the coaches during practice and the media afterward. The Pacers selected him with the 11th pick in the draft after Charlotte chose Kaminsky with the ninth, and the 19-year-old from Texas has since surpassed all expectations.
He worked his way into the starting lineup for the eight games previous to the All-Star break after recovering from a fractured left thumb. The Pacers won five of them despite an injury to center Ian Mahinmi and an overall desultory performance against Charlotte in the final game before the break. He's averaging 12.9 points, 7.6 rebounds and 1.75 blocks in his starts.
He's also single-handedly vanquished the small ball concept team president Larry Bird and coach Frank Vogel experimented with at the start of the season, because he provides the best of both worlds. His perimeter shooting spreads the floor as a smaller "power forward" would do, and his unique shot-blocking and rebounding talents strengthen the defense.
Myles Turner is big, literally and figuratively. He only figures to get bigger. And he looms large in the future of the Pacers.
"You would have to say he's one of the most, if not the most, surprising players in the draft," Detroit coach Stan Van Gundy said before Turner scored 16 points on 8-of-13 shooting against the Pistons on Feb. 6. "Everybody pretty much knew he was going to be a good player, but a lot of people thought it would take more time than this.
"Look, this was a guy who didn't even play big minutes in college as a freshman. To come in here in the NBA and do what he's doing now is a tremendous testament to his ability but also the work he's done and the way they've developed him."
*
Turner's development really begins in Queens, New York, where his father David grew up within earshot of LaGuardia Airport. David was a promising football and basketball player as a kid and was projected to grow to about 6-foot-9, but the direction and ceiling of his athletic career was altered one day when, at 10, he suffered a broken femur in his left leg while playing football in the backyard with his brother.
That stunted his growth in one leg, so after a lot of family debate he had surgery to stunt his growth in the other leg to keep one leg from being much longer than the other. He wound up reaching 6-4 and was a competent but immobile center on the Martin Luther High School team.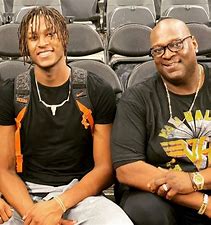 "I was never going to have a pro career," he says. "I played the best I could with what I have."
What he has is a limp, with a right leg bowed out as a result of the surgery. But the operation was a success in that the length of his legs varies only by one inch.
After David completed high school, his father was transferred by American Airlines to Dallas. David went with him and earned a two-year tech school degree. He wasn't fond of Texas after having grown up in New York City, but after he wound up getting a job in ,Oklahoma Texas didn't seem so bad after all. He eventually moved back and settled. Landing a job at the airport, he started out driving a bus and worked his way up to a customer service trainer.
---
Tagged with:
Donnie Walsh
,
Larry Bird
,
Myles Turner