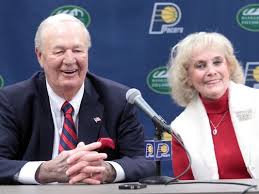 This might be the longest story I've ever written, although my my profile of Frank Vogel has possibly topped it.
It's long overdue, as Nancy Leonard had not previously been given due credit for her role in nurturing the Pacers in their formative years and then virtually saving them from extinction. She remains one of the most unique sports personalities in the city's history. She was the team's assistant general manager and ran the front office during the lean years of the late Seventies, working behind the scenes while her famous husband carried the titles of coach and general manager.
She commands respect from everyone — most of all her husband, who admits to being intimidated by her at times. She once told me after a glass or two of wine that she wishes she were nicer. But regardless of her demeanor she's a good person who has done many nice things for people over the years. Still, it's not a good idea to cross her. 
It was the fall of 1950, in an introductory health class of some sort on the campus of Indiana University. The freshman from Terre Haute, a rough-hewn, fell-off-the-turnip-truck type of kid who made it a point to sit in the back of the room, wanted to get the attention of this girl from the other side of the room, not to mention the other side of the tracks. But how? He had never dated in high school, had hardly ever spoken to a girl, and certainly had no clue what to say to get one's attention, especially one like the prim and proper girl who walked past his seat each day.
So he did the only thing he could think of: he stuck his foot in the aisle. Made her step over it, awkwardly, in that long dress that was fashionable for the day as she made her way to her seat in the front of the room. He lobbed up an awkward grin. She volleyed back a condescending look of disgust.
This is how great romances begin. Sometimes, anyway. A bold gesture by a shy kid, met with disdain from the sophisticated girl, who nevertheless falls prey to his naivety, sincerity and persistence. Sometimes they last, too. The opposite qualities attract, the talents and needs mesh, the devotion to family persists and the next thing you know, Bob and Nancy Leonard are hurtling toward their 60th year of marriage, most of them spent within the storms of professional basketball, not to mention the whirlwind of raising five children.
He was the college All-American and member of a national championship basketball team at IU who went on to play for seven seasons in the NBA, one as a player-coach, then coach for another in the NBA and 12 in the ABA before embarking on a broadcasting career with the Pacers that has spanned nearly 30 seasons – a career that's taken him from the Army to Minneapolis to Los Angeles to Chicago to Baltimore to Kokomo and finally, in 1969, to Carmel.
She has been with him every step of the way, but has been far more than a compansion. She has organized him, directed him, supported him and driven him – literally. Her left-brained structure and logic has balanced his right-brained impulsiveness, cultivating the yin and yang that has allowed their partnership to flourish for all these years, 60 of them come June. Who knows where Bob Leonard, the wild gambler nicknamed Slick because of his card-playing prowess, would be today if not for Nancy Root, the firmly-planted girl from German stock who he tried to trip, and then fell for.
"Don't let her kid you," Slick says, stretched out in the reclining chair of their family room. "It's never worked. She is the most dominant person in the world. And I let her get by with it."
Nancy, sitting up straight on the edge of a nearby chair, laughs.
"Are you afraid of her?" Slick is asked.
"Yes," he says softly, chuckling quietly.
"Yeah, all 5-foot-4 of her," Nancy says.
Why has the marriage worked?
"He was on the road a lot," Nancy says, smiling. "I still like him, though."
Suddenly, Slick tears up a bit.
"Look, you're crying," Nancy says, laughing again.
"Hey," Slick says, growing serious. "She handles everything. Because I don't want to do it. I don't write checks and stuff like that. As a matter of fact, if something would happen to her, I don't know what the hell I'd do. I don't know nothing about nothing. I don't know how to run a computer. What do you call them? Yeah, computers. I have a little dinky cell phone. The simplest one. The only numbers I have in there are the five kids and her."
Where would he be without her? It's a good question. Here's another one:  Where would the Pacers be?
---
Tagged with:
Bob "Slick" Leonard
,
Indiana Pacers
,
Nancy Leonard