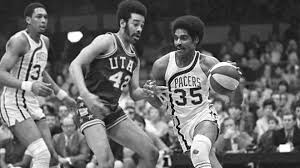 They're all in now, their careers preserved for eternity within the walls of the Naismith Memorial Basketball Hall of Fame in Springfield, Mass. And to think they played for the Pacers at or near the peak of their careers.
For a while, anyway.
George McGinnis' induction into the Hall in 2017 made it a clean sweep for the best frontline in franchise history, joining Mel Daniels and Roger Brown. Together, they comprised one of the few pure Hall of Fame frontlines in ABA or NBA history.
"A tremendous milestone," their coach and primary beneficiary, Bob Leonard, calls it.
The scarcity of such combinations reveals the long odds of gathering two forwards and a center who earn basketball's greatest individual honor on one team. Boston had a couple of legendary frontlines with Bill Russell, Tom Heinsohn and Tom Sanders in the Sixties, and then Larry Bird, Kevin McHale and Robert Parish in the Eighties. The Minneapolis Lakers had Jim Pollard, Vern Mikkelson and George Mikan in the Fifties. The New York Knicks had Bill Bradley, Dave DeBusschere and Willis Reed in the late Sixties and early Seventies.
Compiling such lists can be dicey. Sometimes future Hall of Famers merge for only a brief time, and sometimes one or more of them is well past his peak when it happens. There's no guarantee of chemistry, either, because a great player tends to not like being a sidekick.
Daniels, McGinnis and Brown teamed up for the Pacers while in close proximity to their primes and played on two championship teams, in 1972 and '73. But while they helped bring glory to the franchise, they also served as a reminder of how difficult it is to keep elite talent together, even within the course of a season – and that doing so hardly guarantees success because other teams have talent, too.
---
Tagged with:
George McGinnis
,
Mel Daniels
,
Roger Brown