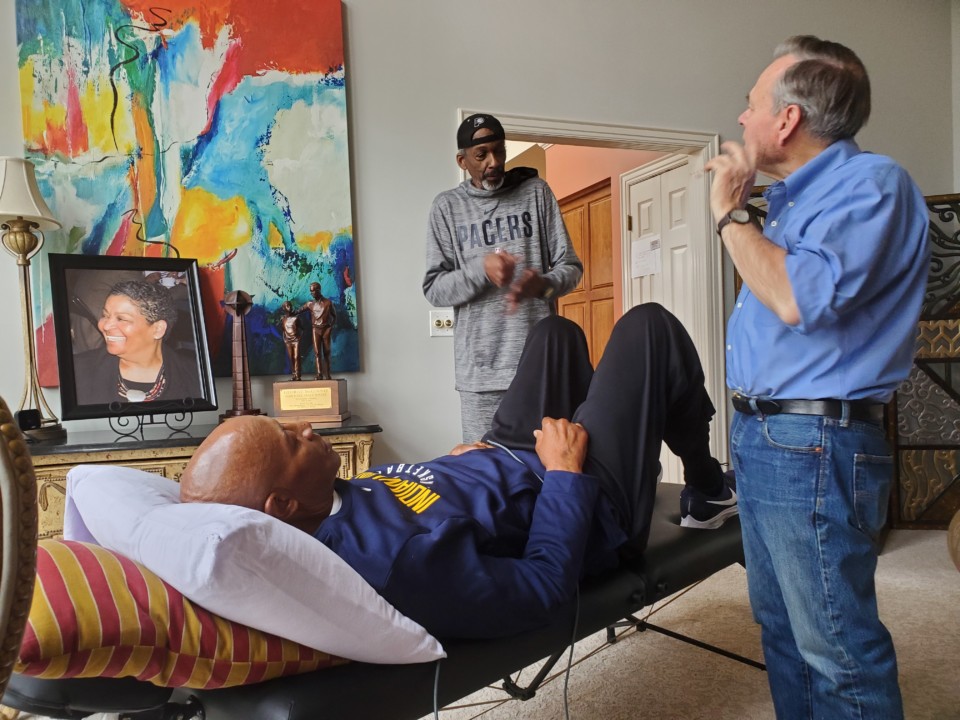 This was written shortly after George McGinnis was inducted into the Naismith Basketball Hall of Fame in 2017. At the time he was due to have the back operation described below. He finally followed through under pressure from his wife, Lynda, who was dealing with terminal cancer at the time.
As of early 2021 he is still rehabbing. He uses a walker to get around but can drive and otherwise live a normal life. Former Pacers trainer David Craig goes to his house once or twice a week to work with him. McGinnis considers the struggle to walk without assistance his greatest athletic challenge. I wrote an article on it for the Indianapolis Business Journal in February of '21.
One more public recognition of his lifetime achievement award and then he can go back to life as a regular person again. He'll still have another event to anticipate and hopefully celebrate, but that will be a private one, out of public view.
George McGinnis, still basking in the afterglow of his induction into the Naismith Basketball Hall of Fame, will be honored again during halftime of the Pacers' game against San Antonio on Sunday at Bankers Life Fieldhouse. It figures to be the last formal acknowledgement of the achievement that felt overdue to fans who saw him dominate ABA competition with the Pacers from 1971-75, and that's fine with him.
"This is my last hurrah," he says, smiling. "They're going to put me out to pasture after that."
So much has changed for McGinnis since he received word last Spring of his selection to the Hall, although nothing changed fundamentally. He's been the subject of widespread media coverage that has introduced his career to many younger fans, and been the guest of honor at several occasions, including one attended by about 150 longtime friends near downtown and another at the Indiana Basketball Hall of Fame in New Castle. Endless congratulations via text, e-mail and personal greeting have flowed his way, both before and after his induction.
"I've gotten more attention here in the last month than in the last 30 years combined," he says.
The peak moment was the Hall of Fame ceremony on Sept. 8 in Springfield, Mass., which exceeded his imagination. Prepped for it by his coach with the Pacers, fellow Hall of Famer Slick Leonard, he was kept on the run by the Hall organizers but found time to renew acquaintances with several players of his era – the likes of NBA star Calvin Murphy and ABA rivals such as Dan Issel and Louis Dampier. He made new friends, too, such as with fellow inductees Tracy McGrady, who marveled at his one-handed jump shot, and Rebecca Lobo. He gave a speech that drew rave reviews, and then went out for a heartwarming late dinner at a small Italian restaurant with 25 or 30 friends and relatives, including former Pacers Billy Knight, Mike Bantom and Clark Kellogg. He picked up the tab.
He even established a Twitter account, @HOFmcginnis30, upon the advice of Spencer Haywood, who set an example for McGinnis by entering the ABA before his college class graduated. He's mostly just used it for retweeting and responding, but has become an official member of the social media revolution.
"You need a Twitter account," Hayward told him. "People want to know what you're doing and what's going on with your life. It's a good way to sell your brand."
"I've never thought of myself in those terms," McGinnis says, laughing.
He's ready for it all to die down so he can return to running his business, GM Supply, and focus on getting himself straightened out – literally.
McGinnis is bent over at the waist and walks with a cane, a sad sight for anyone who witnessed the athletic magnificence of a 6-foot-8 thoroughbred blessed with an abundance of grace and power. His current circumstance is mostly the result of a genetic condition, spinal stenosis, but has been amplified by the pounding a power forward takes through 11 seasons of professional basketball.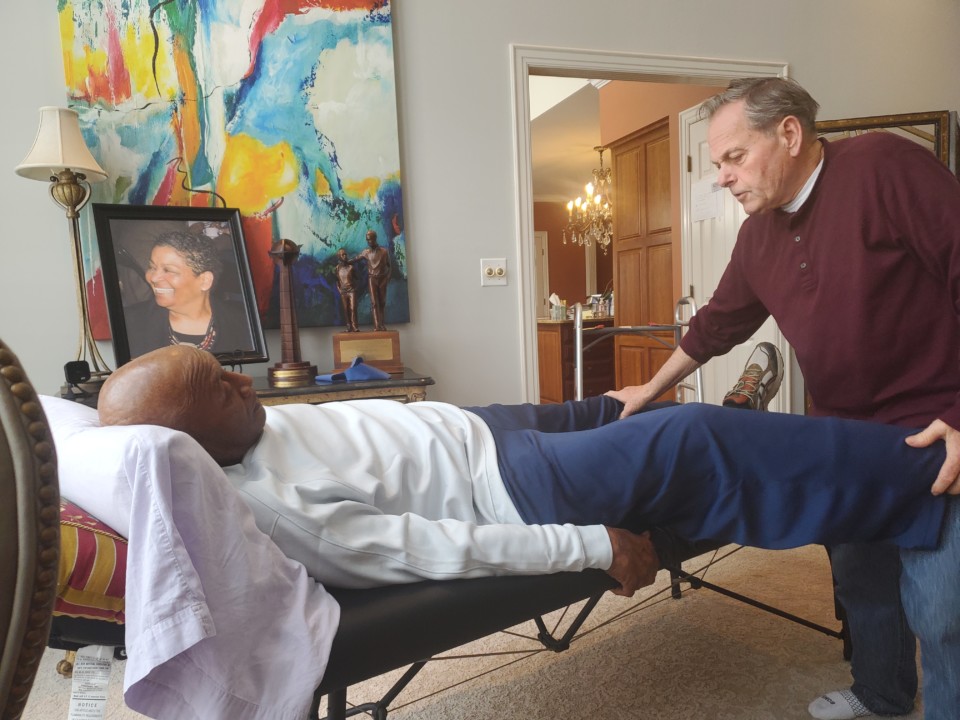 McGinnis has long resisted surgery to address the condition, having had a horrible experience several years ago when he suffered a staph infection after another back surgery and had to spend three painful weeks in the hospital to recover. But now he's ready to deal with it once and for all. A local doctor, David Schwartz, has developed a technique that can correct his condition by inserting titanium discs within his vertebrae to create a straighter, stronger spine.  The procedure consists of two surgeries, lasting nine hours on one day and seven hours three days later. He'll need to spend a few days in the hospital afterward, and then begin an extensive rehab program.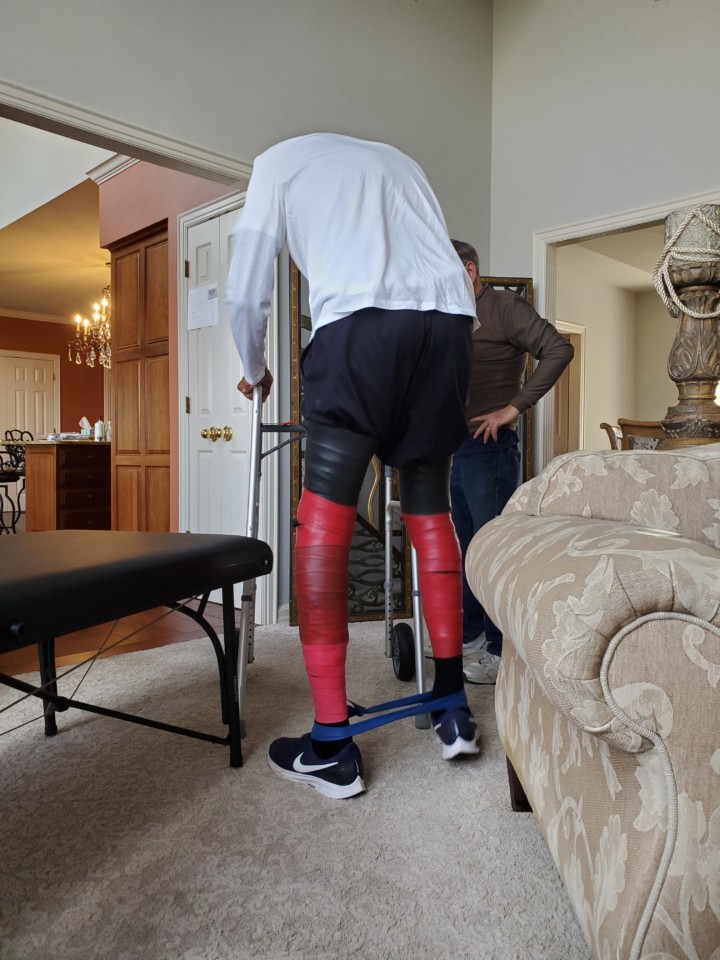 McGinnis will meet again with Schwartz on Oct. 31, and plans to have the surgery late in December or early January. A city is waiting, hoping to see the restoration of one of its greatest athletic figures.
"I've had as many people ask me when I'm going to get my operation as have asked me about the Hall of Fame," McGinnis says. "I'm looking forward to getting this done."
McGinnis can look to fellow Naismith Hall of Famer Bill Walton for inspiration and comfort. Walton had a different condition, but underwent a similarly major back surgery on Feb. 8, 2009 and is recovered and working again after nearly being driven to suicide by back pain.
"My life wasn't worth living," Walton says. "I couldn't move. I was going to kill myself."
Walton, whose surgery was conducted by Dr. Steven Garfin in San Diego, is a spokesman for the "cause" of back surgeries, which for years were regarded as a last resort, and a dangerous one at that. He's flown to Indianapolis to meet with Dr. Schwartz and makes regular presentations to groups. He also has written a book about his experience, "Back from the Dead."
Walton recently completed a 650-mile bike ride from San Francisco to San Diego as part of a fundraiser, and will be traveling to China soon as part of a Pac-12 college basketball tour. Both of those events would have been unimaginable before his surgery.
"I could not ask for a better result or outcome," he says. "I have no pain and I'm on no medication.
"I'm the luckiest guy in the world. I'm going full-speed."
McGinnis hopes to catch up. He has a more personal role model in his sister, Bonnie, who in August had the same surgery he will have.  She's on her way to a complete recovery and stands tall as an inspiration for him.
"She's straighter than a tree," McGinnis says. "She was bent over as much as I am. Now she's out walking and driving, and in no pain.
"It's just amazing. She almost looks down on me now, and she's 6-foot. That's why I'm so encouraged."
If all goes as planned, he'll have the same result as his sister and Walton. That sort of comeback would amount to an even greater experience than induction into any Hall of Fame.
Tagged with:
David Craig
,
George McGinnis
,
Naismith Basketball Hall of Fame