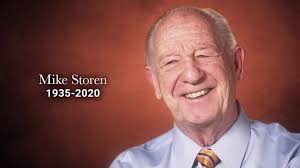 The early survival and ultimate success of the Pacers in their formative ABA seasons owes to several fluky factors.
Getting Roger Brown out of a factory in Dayton was one. Getting Mel Daniels in a trade for a mere $100,000 because the Minnesota Muskies were moving to Miami and needed a quick infusion of cash was another. Getting Bob "Slick" Leonard to coach the team early in the second season because he happened to be living just up the road in Kokomo while selling high school graduation supplies was yet another.
Landing Mike Storen as the franchise's first general manager might have been the greatest break of all, however.
Storen, more than anyone, laid the groundwork for the Pacers by establishing an aggressive, confident and optimistic culture that factored into every positive development over their first three seasons. The Pacers quite possibly would have signed Brown without Storen's involvement because Oscar Robertson had already recommended him, but they likely wouldn't have traded for Daniels or signed Leonard without Storen.
It so happens Storen's arrival was every bit as fateful as the others.
---
Tagged with:
Bob Leonard
,
Bob Netolicky
,
Dick Tinkham
,
Freddie Lewis
,
Mike Storen
,
Roger Brown