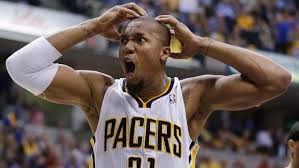 Here's a look at the former Pacers power forward who brought production and maturity to the team for four seasons. He was ready to quit basketball in high school, but a coach butted in. He had trouble reading, too, but another adult butted in. That's why he's willing to become involved in kids' lives today.
This story was written in 2013, before West left the Pacers and took a $10 million pay cut to play for San Antonio, before he moved on to Golden State and won two championship rings, and before his mentoring of T.J. Warren brought him back into the Pacers' sphere.
Those stories can be found elsewhere on this website. This story tells how he became David West.
David West was done with basketball, and who could blame him?
His sophomore season at that high school in Teaneck, N.J. had not gone well due to an onset of growth-spurt awkwardness, and now that his family had moved to North Carolina he wasn't going to endure another unhappy season — among strangers, no less. It was going to be easy to quit and remain as anonymous as possible for two more years of school.
The coaches at Garner High School, however, had taken notice of the tall, gangly kid who had suddenly appeared in their hallways, and like bloodhounds in search of over-sized prey, they went looking for him. He engaged them in a game of virtual hide-and-seek, ignoring their notes to his homeroom teacher, avoiding the areas near their classrooms whenever possible, and rushing onto the bus at the end of the day to avoid hallway confrontations.
Eventually, a junior varsity coach cornered him and asked if he intended to come out for basketball.
West said no.
---
Tagged with:
David West
,
Eddie Gray
,
Garner High School
,
Hargrove Military Academy
,
Indiana Pacers
,
San Antonio Spurs