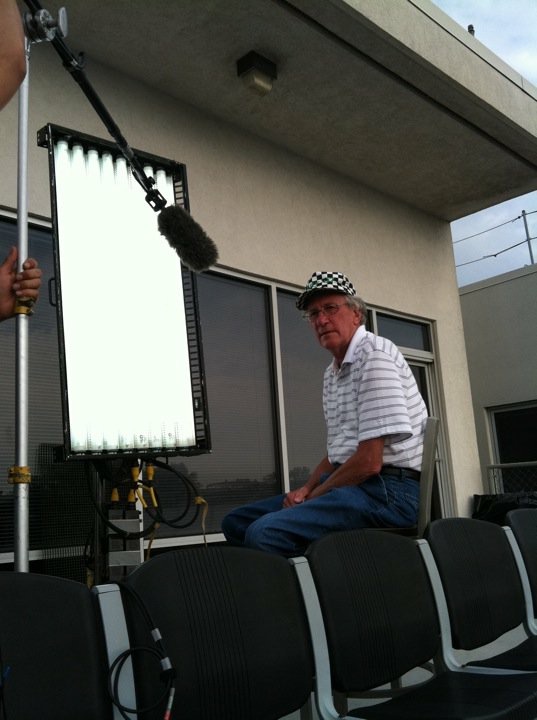 Many Indianapolis 500 fans can boast of attendance streaks. It's part of what makes the race special. But nobody can match the perfect record owned by Dr. Richard Bennett of Pittsburgh, who has attended the race every year of his life. That goes back to either 1938 or '39, depending on your opinion of when life begins. A podcast of my One on One conversation with Bennett from 2011 is available here, but since then I've written an updated version of one of the most incredible stories in Speedway history. This article was written in 2016.
Dr. Richard Bennett doesn't remember a thing about the first Indianapolis 500 he attended. He didn't see any of it, either. Maybe he heard some of it, he's not sure. The only certainty is that he was secure in the company of his parents.
But then what do you expect from someone still in his mother's womb?
That would have been 1938, when Bennett attended his first race, six months from birth. He hasn't missed one since, making him the owner of the longest current uninterrupted streak of races attended, and almost certainly the all-time record-holder as well. Using 1939 as his more reasonable start date, this year's race will be his 74th.. Only a world war that wiped out the "500" from 1942-45 could interrupt his devotion. Otherwise, he's been there. Every time.
Surely no other fan of any other sporting event can boast of such a perfect and perpetual attendance record. And surely no other fan could love the 500 as much as Bennett, who has made it a focal point of his life. Understand, this is not a gearhead with nothing better to do. He is not a fan in search of a gimmick, such as Larry Biscegelia, who made it a point to be first in line every year from 1950 to '87. He doesn't seek attention, either. He's a serious man with a serious career, and a serious fan who owns 70 tickets that he distributes to friends and relatives. He accepts reimbursement only from some of them, and together they wring as much fun from the weekend as humanly possible. They are the race's equivalent of the swallows of Capistrano, dependably returning to the same place at the same time every year.
*
Bennett, 77, grew up in Ohio and graduated from Ohio State with a degree in Dentistry. He later switched to Anesthesiology, then earned a PhD in Pharmacology at the University of Pittsburgh, where he worked as a professor. He's still a Professor Emeritus and works about 20 hours per week as an anesthesiologist for a dentist who specializes in special needs children.
He's had a full life and could be traveling the world or relaxing at home with a martini if he desired, but the "500" and everything that goes with it pulls him back every time.
"It's not just the race, it's the folderol that goes on with it," he says. "To me it's like a theatrical play, from the sublime to the ridiculous, from comedy to tragedy. It's got mystery, it's got drama. It's got everything you can imagine.
"It's addicting."
So, Bennett and a party of about 40 people will leave Pittsburgh by chartered bus at 8 a.m. Friday May 27th, two days before the race and head for New Castle, where they'll be joined by about 30 others from various points of the country, and spend three nights in a hotel there. They'll attend Saturday's Downtown parade in matching shirts and hats, some of them in wild costumes. They'll have a cookout back in New Castle that evening, and Bennett will shoot off the fireworks he brings. Oh, and the potato guns. Can't forget the potato guns. Ten or 15 of his friends bring potato guns, bazooka-like devices that launch potatoes, so they'll be firing those as well. And then they'll head for the race early Sunday morning, hopefully regaining the police escort they enjoyed for 25 years until it abandoned them last year.
They'll conduct their own victory banquet on Monday's bus ride home, awarding prizes for Rookie (fan) of the Year and so forth, and arrive back in Pittsburgh about 4 p.m., when they'll share tears and hugs and promises to do it all again next year. Bennett will re-order his tickets the first day possible, make hotel and bus reservations the following January, and repeat every familiar step of the process with the same eagerness he felt as a kid in the Forties.
"Fireworks are going on all year for us," he says. "It's not just a race, it's an Indy experience that goes on all year long."
***
Bennett, like most veteran race fans, is nostalgic for days gone by. His heart skips a beat over the roadsters, the Novis and the Turbines. He misses the innovation and personality of the race in the Fifties and Sixties, when an underfunded but dedicated team could build a car in a neighborhood garage and make the field, and when mechanical wizards brought innovative ideas to the track each year. He's been around long enough to see cars with front wheel drive, with six wheels and with two motors. He loved them all, and the drivers who wrestled them through turns.
"In my mind, they were driving racing cars back then," he says. "These guys are piloting computer-oriented rocket ships. They have more computers on them than books in a library. In the old days it was open cockpit. All the cars weren't alike. Today the only differentiation is the paint jobs."
Don't, however, mistake him for the get-off-my-lawn guy who can't handle change. He loves attending the race more than ever. He doesn't come back every year out of habit or boredom, but out of love and anticipation.
He'll sit in the same seat in Grandstand B in the first turn, as he has for more than 60 years. He also has blocks of seats in two other nearby grandstands for his party. He'll listen to the race on a headset to pick up the radio and television broadcasts – and make sure his grandkids do the same to protect their ears – and watch the infield video screens and scoreboards to keep track of everything. And don't tell him it's boring after the first few laps. There are fuel strategies, tire changes, all kinds of things going on that affect the outcome if you're willing to pay attention.
"It's better every year," he says. "The phenomenon gets better.
"It's a simple race to follow now. It's a dream. It's an absolute pleasure. Everybody does something every year to make it a better year than last."
Bennett attended his first races with his parents when  he was six months old. They all sat on the infield and had a picnic while the cars circled around them. "My parents were nut cases," he says. "They never got a baby sitter for me."
The first race he has any memory of was in 1946, after Tony Hulman purchased the grounds and revived the event that had been canceled for four years during World War II.
The first time he really watched the race was in 1949. That one still stands as the most memorable for him. He sat with his parents in Grandstand G on the second turn, which for him might as well have been heaven. His two favorite drivers, Duke Nalon and Rex Mays, started in the first two positions and were driving his favorite car, the Novi. Nothing could have been better than that.
Bennett watched with intense glee as Nalon's 550-horsepower brute pulled away from the field, lapping cars by the 20th lap. But after the 23rd lap, Nalon didn't show in the second turn. Bennett didn't know what to think until boys came through the crowd selling single sheets of newspapers with headlines screaming word of Nalon's fiery crash in the third turn. That's how news was transmitted in the days before electronic scoreboards and a public address system that could be heard around the track.
Bennett grabbed his father's camera and ran as fast his 10-year-old legs could carry him to the north end of the track, where he found Nalon's Novi backed up against the wall. A broken axle had caused him to lose control and hit the wall, and his car caught fire. Nalon made a heroic escape from the car, jumped over the outside wall and rolled down the embankment. He was long gone by the time Bennett arrived, but Bennett snapped a color photo, two inches by three inches, that he still holds dear today.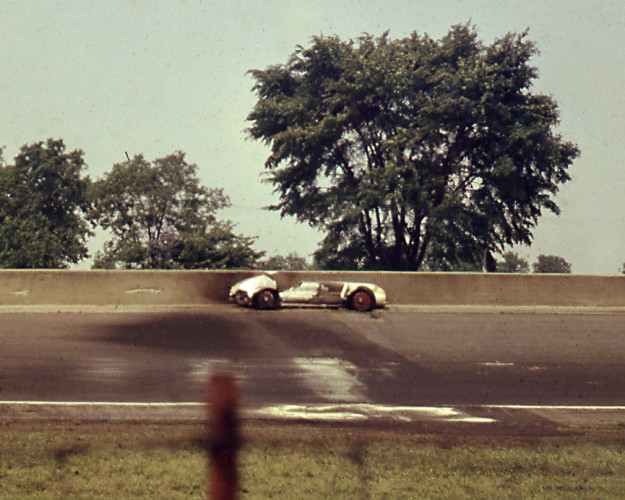 He walked slowly back to his seat in the second turn, rejoining his parents. He sat there in a daze the rest of the afternoon, hardly paying attention to the rest of the race.
"I didn't feel this bad when my dog died," he told his father.
***
Despite his unique standing among the "500" race fans, Bennett rarely gets special attention from the Speedway. He doesn't expect it. Doesn't need it.
He did once get a letter from Joie Chitwood III, former Speedway president, asking for recommendations to improve the event. Bennett suggested having the race day fighter jets conduct their flyover down the center of the track, rather than the main straightaway, so that fans sitting under the roof in the grandstands could see it from their seats. It never happened.
A couple of years ago, about 30 of the longest-running fans were gathered a week or two before the race. A picture was taken and they were given plaques in appreciation of their devotion. That was fine, but not that important to him.
He did, however, have one remarkable encounter with former Speedway owner Tony Hulman that provided a lifetime's worth of recognition.
Bennett was having a martini at his father's house one February evening in 1972 when Dad mentioned he needed 20 more tickets to fill the growing demand from friends. Tickets were more difficult to come by in those days, so it was a problem.
"You're a businessman, why don't you call Tony Hulman?" Bennett says.
"You're the doctor, why don't you call Tony Hulman," Dad says.
"OK, I will."
On the way home, it hit Bennett. What have I done? What do I do now? He figured he would call the Speedway and let it go at that. Hulman probably wouldn't be there, or be available, but at least he could say he tried.
He called the track the next day and asked to speak with Mr. Hulman. His name was taken and he was passed on to another secretary. And then to a third one. And then Mr. Hulman's familiar voice came on the line.
Bennett told his story, how his father, who had attended every race since the early Twenties, had 20 tickets but needed 20 more to fill the demand.
"Where do you want them?" Hulman asked.
In the penthouse, Bennett said, but they don't all have to be together.
"I can give you 12 and 8," Hulman said.
Bennett said that would be just fine.
"Hold the line a minute, I want you to talk to my secretary," Hulman said. "I'm going to invite you and your parents to come to the Queen's Ball and sit at the Speedway table as my guests."
Bennett's father was in disbelief when given the news. But it was true. They rented tuxedos and attended the Ball. Hulman offered to send a limo for them, but they stayed in a hotel close enough to walk to the event. When they arrived, Hulman was greeting everyone at the door. He introduced the Bennetts as if they were dignitaries. No doubt in his mind, these longtime ticket holders were just that.
As promised, they sat at a table with Hulman and his other invited guests. Bennett sat next to Bill Lear, the noted inventor and founder of the Lear Jet Corporation.
"Come join the Speedway family," Hulman had said to the Bennetts when they arrived at the ball.
"And it was like a family," Bennett recalls today.
***
Family – including the friends who feel like family – is what the race is about at its core. Kids go hand in hand with their fathers, then get older and walk alongside their fathers, then help their fathers get to their seats while holding hands with their own kids. They sit in the same seats year after year, become friends with the people around them and look forward to renewing those acquaintances every May. For many, the race is nearly incidental to the experience, a noisy and colorful backdrop to a celebration of life.
Some fans have attendance streaks of 30, 40, even 50 years. Bill Marvel, former United States Auto Club public relations executive and the Pacers' first media relations director, has attended every race since it was revived in 1946. But nobody can match Bennett for permanence and passion.
The first race Bennett attended out of the womb, in 1939, was won by Wilbur Shaw. The polesitter that year was Jimmy Snyder, at a speed of 130.138. A lot has changed since then, but so many things have stayed the same – primarily his love for the event and the pleasure of being in the company of family and friends. Hulman would be proud of his Speedway family.
Bennett's father began attending the race with a couple of friends in 1932 or '33, when he lived in Donora, Pa., and continued until he died in 1983. His wife has gone to 52 in a row. His sons, 45 and 50, have been going since they were six years old. His grandchildren, 15 and 18, began when they were five.
Many of the members of Bennett's group are over 70. One passed away last year at 92. But all who can come back do so, for as long as they can, and not just for the race.
"It's the high point of life on an annual basis," Bennett says. "When the race is over, there will literally be friends in tears because next year's race is a year away and we won't see one another until then."
Bennett knows this much: No matter what happens to the group around him or to the race, he will go for as long as he's physically able. He has attended every year of his life, and he'll never let that go.
"They'll have to drag me out by my heels," he says.
Tagged with:
Indianapolis 500
,
Tony Hulman