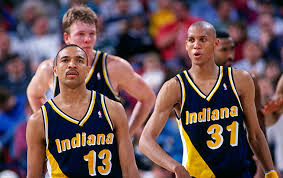 For many Pacers fans, the "Flo-Jos" remain the best uniform in franchise history. They were the brainchild of track star Florence Griffth-Joyner, but also the result of an unpaid intern's creative notion.
The Pacers wore them as throwbacks in the 2014-15 season to widespread approval. They were scheduled to wear them for six games. After they won all six, they received permission from the NBA to wear them for a seventh game, and won that, too. They also were given permission to wear them for the season's final game at Memphis, but, worn out from an overtime win the previous evening, they lost.
Can't blame the unis for that one.
Whether they are the best-looking uniforms the Pacers have ever worn is a matter of opinion. What's certain is that they are the most distinctive, and bring out the best story.
Just mention "the Flo-Jo's," and veteran Pacers fans immediately recall the uniforms worn from the 1990-91 through the 1996-97 seasons. Unique in their design, material and conception, they hold a special place in the hearts of many fans, particularly those who were at an impressionable age during that span. No other team can claim a design anything like them, or a designer like the one who created them.
And to think it took an intern to make it happen.
---
Tagged with:
Flo-Jo uniforms
,
Indiana Pacers
,
Rebecca Polihronis