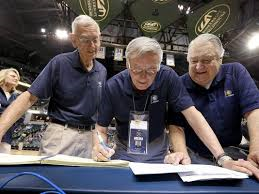 At the time this story was published, three men had been with the Pacers' stat crew from the beginning of the franchise in 1967. Furimsky passed away a few months later and Bevan passed away in November of 2020 after retiring in 2018. 
(c) 2012, Pacers.com. Reprinted by permission
To say they go back to the first game the Pacers ever played robs them of an assist. They go back further than that.
Bill York, Paul Furimsky and Bill Bevan were keeping stats for the franchise well before the Pacers played their first game against the Kentucky Colonels on Oct. 14, 1967. They worked the six exhibition games prior to that and the call-out scrimmages in June, when dreamers from all over central Indiana came out to see if they could become a professional basketball player.
Forty-five years later they're still here, working the home games for a stat crew that has more than doubled in size from the days at the Fairgrounds Coliseum when a skeleton group tried to keep up with those fast-paced ABA games. While each of them has missed a game here and there over the years – but no more than 10 – they have declared Wednesday's game against Minnesota to be their 2,000th. They've included home regular season and playoff games, but not preseason games.
Unofficial as it might be, it's a milestone likely unmatched throughout the NBA. Forty-five seasons is a long time for three men to work at something that paid nothing at the beginning, then $2, then $5 and all these years later still doesn't pay enough to make money the motivation for doing it. It's all for the love, which springs from camaraderie, a courtside seat and the opportunity to be an integral part of every home game.
---
Tagged with:
Bill Bevan
,
Bill York
,
Indiana Pacers stat crew
,
Paul Furimsky