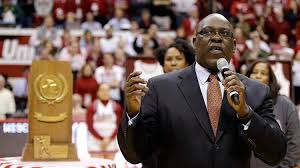 Quinn Buckner is best known to today's basketball fans in Indiana as a chatty broadcast analyst for Pacers games. But to older generations he was much more than that. He was a player who led teams to championships, or at least contributed to them, at every level. 
His career could have turned out much differently, however, if not for circumstances. A lot of circumstances.    
Quinn Buckner has played on championship teams at all levels, and had a lot to do with most of them. He's one of just seven people to play on teams that NCAA, NBA and Olympic titles, a list that would be pared further if state high school championships were added to the mix.
He led his prep team in Thornridge, Ill. to two state titles, losing just one game over his junior and senior seasons. He was a captain and acknowledged leader of his college team at Indiana University that went undefeated and won the national championship his senior season and likely would have won the previous year as well if not for an injury to the team's All-American forward. He was the starting point guard on the U.S. Olympic team that won a gold medal the following summer. And he was a backup guard on the Boston Celtics team that won the NBA title in 1984.
You have a career such as that and you're going to receive some individual honors along the way. The most significant one for Buckner was being inducted into the College Basketball Hall of Fame in 2015, the first player from the undefeated championship team at IU to get that call.
If not for a couple of twists of fate, however, he could have been Bill Buckner going into the College Football Hall of Fame. Fortunately for basketball fans in a lot of places he chose to ignore his primary "gift" and listen to his heart – and show some common sense, too.
---
Tagged with:
Bob Knight
,
Quinn Buckner
,
Scott May