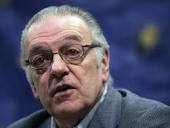 Donnie Walsh returned to the Pacers' presidency for one season in 2012 while Larry Bird took a sabbatical. He had been away four years from the franchise he had done so much to build, during which his life took some dramatic turns. 
(c) 2012, Pacers.com. Reprinted by permission
There must be times when Donnie Walsh wonders if the past four years were a dream sequence. Did he really spend three seasons in New York to untangle the Knicks' financial web? Did he really live in New York City, in an apartment, away from his wife? Did he really have those three surgeries?
---
Tagged with:
Donnie Walsh
,
Indiana Pacers
,
New York Knicks