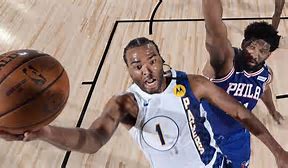 T.J. Warren joined an exclusive club when he scored 53 points against Philadelphia on Aug. 1, 2020. It's a group for which only seven Pacers have earned admittance, three from the franchise's seasons in the ABA and four in the NBA.  And if we are to judge people by the company they keep, it offers an intriguing look at the future of Warren's career.
Start with this: Scoring 50 points, even in a 48-minute game with the added boost of a three-point line, is no joke. Sure, some freaks of nature have done it numerous times. Wilt Chamberlain did it 105 freaking times. Michael Jordan did it 30. Even some mediocre players have done it once. Willie Burton, anyone? Mike Newlin? Tracy Murray? They weren't quite blind pigs finding acorns, just solid players having a magical moment.
Still, you get the point about getting 50 of them.
It's hard to do.
For perspective, consider that far more players have failed to score 50 points in an ABA or NBA career than have scored as many in a single game. Doing so requires the collision of a talented scorer having a great night with an opponent that's probably not locked in on defense. Toss in the necessity of teammates willing to become accomplices to the feat by sacrificing their offense and it's clear why it's so rare.
Also consider that only seven of the 348 players who have played in a regular season game for the Pacers since their beginning in 1967 have done it. Essentially, one out of every 50.
Also, this: Of the other six Pacers who have done it, all were voted to play in their league's all-star game at least twice. Four are in the Hall of Fame – the big one, named for James Naismith – and their jersey number hangs in the rafters at Bankers Life Fieldhouse.
Warren, 26 years old and playing in his sixth NBA season, has yet to make an NBA all-star team but he's playing like a legitimate candidate for one. He's the quietest of the Pacers intended starters, verbally for certain and in many ways on the court as well. He's also the one least talked about for reasons that are mostly to his credit. He's consistent, hasn't had injury issues and says nothing that raises an eyebrow.
He just happens to be their leading scorer and their best shooter. Domantas Sabonis has a slightly higher field goal percentage, but his baskets tend to come from within arm's reach of the basket. Warren, meanwhile, is a Monster of the Midrange.
Warren also represents a looming monster-sized dilemma for the Pacers. He will be by far their lowest-paid starter next season if the current group remains intact, when he'll receive $12 million. That's  a middle class wage compared to what Myles Turner ($18 million), Sabonis ($18.5), Malcolm Brogdon ($20.7) and Victor Oladipo ($21) will be paid. Fortunately for the Pacers, Warren's contract runs through the 2021-22 season, so he's locked in for a while. You can thank Phoenix Suns management for that team-friendly deal. While you're at it, thank them for gifting him to the Pacers to clear salary cap room last summer.
No team, particularly a smaller market team such as the Pacers, can afford to have all five starters earning $20 million and more. No NBA team today has more than three players at that level. But Warren is going to command that kind of deal in a couple of years so something will have to give.
There's no point speculating on that now because a lot can and will happen between now and the time a decision has to be made on Warren's next contract. But his 53-point masterpiece against the Sixers indicates he won't be the one sacrificed for the cause of fiscal semi-sanity. Efficient and occasionally explosive scorers such as him will always be in demand and his solid defense makes him that much less expendable.
Five of his six predecessors in the Pacers' 50-point club eventually were traded away or allowed to leave as a free agent. Short-term, though, they all were great assets whom history regards kindly. And Warren looks like he belongs.
Here's a roll call of the other club members, in chronological order:
---
Tagged with:
Billy Knight
,
George McGinnis
,
Jermaine O'Neal
,
Mel Daniels
,
Reggie Miller
,
Roger Brown
,
T.J. Warren