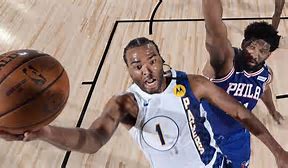 T.J. Warren joined an exclusive club when he scored 53 points against Philadelphia on Saturday. It's a 51-year-old group for which only seven Pacers have qualified for admittance, three from the franchise's seasons in the ABA and four in the NBA.  And if we are to judge someone by the company he keeps, it offers an intriguing look at Warren and where his career might go from here.
Start with this: Scoring 50 points, even in a 48-minute game with the added boost of a three-point line, is no joke. Sure, some freaks of nature have done it numerous times. Wilt Chamberlain did it 105 freaking times. Michael Jordan did it 30. Even some mediocre players have done it at least once. Willie Burton, anyone? Mike Newlin? Tracy Murray? They might not have been blind pigs finding acorns exactly, but you get the point, even if they got 50 of them.
It's hard to do.
For perspective, consider that far more players have failed to score 50 points in an ABA or NBA career than have scored as many in a single game. Doing so requires the collision of a talented scorer having a great night with an opponent that's probably not quite locked in on defense. Toss in the necessity of teammates willing to become accomplices to the feat by sacrificing their offense and it's clear why it's so rare.
Also consider that only seven of the 348 players who have played in a regular season game for the Pacers since their beginning in 1967 have done it. Essentially, one out of every 50.
Also, this: Of the other six Pacers who have done it, all were voted to play in their league's All-Star game at least twice. Four are in the Hall of Fame - the big one, named for James Naismith - and their jersey number hangs in the rafters at Bankers Life Fieldhouse.
Warren, 26 years old and playing in his sixth NBA season, has yet to make an NBA All-Star team but he's playing like a legitimate candidate for one. He's the quietest of the Pacers intended starters, verbally for certain and in many ways on the court as well. He's also the one least talked about for reasons that are mostly to his credit. He's consistent, hasn't had injury issues and says nothing that raises an eyebrow. He just happens to be their leading scorer, though, and their best shooter. Domantas Sabonis has a slightly higher field goal percentage, but his baskets tend to come from within arm's reach of the basket. Warren, meanwhile, is the Monster of the Midrange.
Warren also represents a looming monster-sized dilemma for the Pacers. He will be by far their lowest-paid starter next season if the current group remains intact, when he'll receive $12 million. That's  chump change compared to what Myles Turner ($18 million), Sabonis ($18.5), Malcolm Brogdon ($20.7) and Victor Oladipo ($21) will be paid. Fortunately for the Pacers, Warren's contract runs through the 2021-22 season, so he's locked in for a while. You can thank Phoenix Suns management for that team-friendly deal while you're also thanking them for gifting him to the Pacers to clear salary cap room last summer.
No team, particularly a smaller market team such as the Pacers, can afford to have five starters paid $20 million and more. No NBA team today has more than three players at that level. But Warren is going to command that kind of deal in a couple of years so something will have to give.
There's no point speculating on that now because a lot can and will happen between now and the time a decision has to be made on Warren's next contract. But his 53-point masterpiece against the Sixers indicates he won't be the one sacrificed for the cause of fiscal semi-sanity. Efficient and occasionally explosive scorers such as him will always be in demand and his solid defense makes him that much less expendable. While still in his prime, at least.
Five of his six predecessors in the Pacers' 50-point club eventually were traded away or allowed to leave as a free agent. Short-term, though, they all were great assets whom history regards kindly. And Warren looks like he belongs.
Here's a look at the rest of the club members, in chronological order: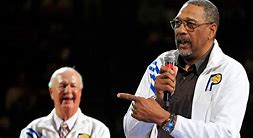 Mel Daniels
Date: March 18, 1969
Details: Daniels scored 56 points in 143-114 victory over the New York Nets. It broke Roger Brown's single-game franchise record of 46 set a week earlier against the Nets, which gives you an idea of how bad the Nets' defense could be. The Nets finished the season with a 17-61 record and were in the midst of a season-ending 14-game losing streak on this evening. Daniels hit 25-of-38 shots. He could have scored more than 60 if he hadn't hit just 6-of-13 free throws. Oh, and he grabbed a franchise-record 31 rebounds as well.
The story: The newspaper accounts strained to find the proper hyperbole to describe Daniel's performance. Dave Overpeck in The Indianapolis Star wrote that Daniels "broke more records than a clumsy disc jokey would in two years." Dick Denny in The Indianapolis News wrote that Daniels "got more help from his teammates than a pretty girl with a flat tire on an expressway."
Daniels scored most of his points against Nets center Tom Hoover, a journeyman who had immigrated from the NBA. He told the story many years later that when he subbed out of the game Hoover said something to the effect of, "You better get off this floor before I beat your ass." That couldn't have been quite true, though, because Daniels stayed in the game until the final buzzer. He was one short of Connie Hawkins' league single-game scoring record, so Pacers coach Bob Leonard called timeout with eight seconds left to set up a play for Daniels. He wound up taking a 22-footer that missed.
Daniels said he was prouder of his 31 rebounds than his 56 points. He also gave credit to his pregame meal: wife Cecelia's enchiladas.
"Sure, I enjoyed it and I was disappointed that last shot didn't go in," Daniels said. "But I'll tell you this. I had absolutely no gas left at the end. I was going on fumes."
The aftermath: Daniels was voted the ABA's Most Valuable Player at the end of this season, and again in 1971. He was the starting center and heart and soul of all three Pacers championship teams, but was traded along with Roger Brown and Freddie Lewis after the 1974-75 season. He was elected to the Naismith Hall of Fame in 2012.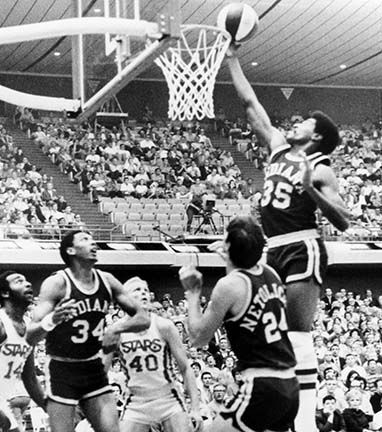 Roger Brown
Date: May 19, 1970
Details: Brown scored 53 points in Game 4 of the Pacers' series with the Los Angeles Stars in the ABA finals, a 142-120 victory. He hit 18-of-29 field goal attempts and 14-of-16 free throws. He also grabbed 13 rebounds and passed out six assists, both team highs. Brown broke the ABA playoff scoring record set by Rick Barry earlier that postseason and no Pacer has come close to matching that mark in the playoffs. Reggie Miller, who scored 41 twice, is second.
The story: The Pacers were playing their third game in three nights, but Brown had enough energy left to produce the greatest game of his career, and probably the most impressive of all the franchise's 50-plus explosions.
Brown had not played particularly well in the first three games of the series. The Stars were playing him physically and their rookie forward, Willie Wise, was one of the ABA's best defenders. Brown, though, heeded coach Bob Leonard's advice to make his moves more quickly after catching the ball rather than sizing up his defender first.
He also gave credit to two outside factors: miniature golf and new shoes.
Brown had played at the course across the street from the team hotel earlier that day with Freddie Lewis, Mel Daniels and John Barnhill, according to Lewis' memory. Brown told reporters after the game he shot a 49, four under par.
"I thought walking around the course would relax me," he said after the game.
He also wore, for the first time, the newly released $80 adidas "Superstar" shoes with three stripes, in navy blue. He said they "enabled me to stop and start well. I went around all of 'em real easy."
There might have been a third reason, too. Legend has it that Brown received a note before the game from a woman saying she would meet him afterward if he took the game's first shot. Or scored the first basket, something like that. Teams flew commercial then, so the Pacers were going to stay overnight rather than fly out afterward as they do now, so there was going to be time for, uh, postgame dates.
Aftermath: The 1970 ABA final series was the peak moment of Brown's career, but he went on to play seven full seasons for the Pacers through the 1974-75 season and later returned to finish his career with them at the end of the 1974-75 season. He was a vital contributor to all three of their championships and was elected to the Naismith Hall of Fame in 2013.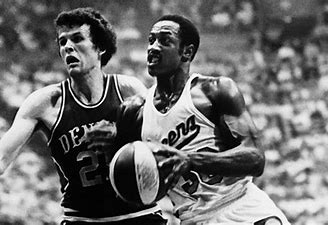 George McGinnis
Date: Nov. 28, 1972
The details: The Pacers' first game of the 1972-73 season against Dallas was hyped as a showdown between Daniels and his former teammate, Bob Netolicky, who had been traded from the Pacers to the Chaparrals the previous summer.
Netolicky won the personal matchup in this one, outscoring Daniels 31-21 and matching his rebound total with 16. But McGinnis stepped in to steal the show with 58 points in a 120-117 overtime victory in Dallas. He hit 22-of-35 shots and 14-of-21 free throws, grabbed 16 rebounds and picked off eight steals while playing all 53 minutes. All of that made it easy to forget his nine turnovers.
The story: The article in the Star reported Leonard just a few nights earlier had said McGinnis was "about two months away from being the best forward in basketball," and suggested he might want to update the timetable.
McGinnis gets a big kick out of that quote today. Two months? It was quite a prediction, but there's no question the 22-year-old second-year forward was becoming a force. His development as a rookie the previous season, when the Pacers won their second ABA title, had led to Netolicky being traded – at Netolicky's request, by the way.
McGinnis said he was most proud of his defense, limiting Dallas forward Rich Jones to 13 points after halftime.
"But this was just one of those nights when we were up and down the floor a lot and my shots were falling in," he said. "Everything I put up there was going in."
The aftermath: McGinnis went on to make the first of his six all-star teams (three in the ABA, three in the NBA) in this season and average 27.6 points and 12.5 rebounds. He shared ABA Most Valuable Player honors in the 1974-75 season with Julius Erving and then left as a free agent, jumping to Philadelphia in the NBA when the Pacers couldn't compete for him financially. He was belatedly inducted into the Naismith Hall of Fame in 2017. His 58-point outing still stands as the franchise record.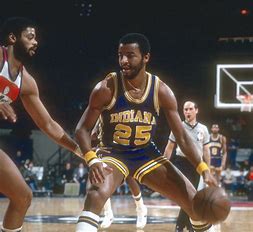 Billy Knight
Date: Nov. 11, 1980
The details: Knight scored 52 points while hitting 19-of-30 shots and 14-of-16 free throws. He scored 19 of his points in the fourth quarter, when the Pacers held on for a 119-113 victory in San Antonio. He also had five rebounds, five steals and no assists. The NBA didn't have a three-point line at the time, but Knight wasn't a three-point shooter anyway. He only attempted 155 in his career and hit 28 percent of them.
The story: Knight gave credit to the rims at the Convention Center Arena where the Spurs played at the time.
"They're big and soft – you can get a lot of good bounces off them," he said.
The Spurs eventually put a physical forward, Paul Griffin, on Knight to slow him down. Griffin knocked Knight to the court at one point, and Knight suffered a slight knee injury.
"When you start making your shots and everything starts falling, they put a guy a little bigger on me," Knight said. "He didn't have very many fouls, so his job was just to wear me down. That's the way the game goes."
The aftermath: Knight averaged 17.5 points in this season, hitting 53 percent for the season. He had averaged 28.1 points in his second season with the Pacers (1975-76) and played in the ABA al-star game. He was selected to play in the NBA all-star game as a Pacer the following season, their first in the NBA. He played 11 seasons in all, for the Pacers, Buffalo, Boston, Kansas City and San Antonio.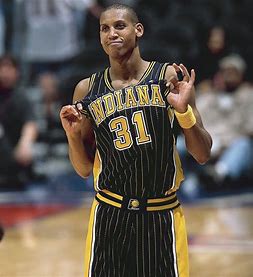 Reggie Miller
The date: Nov. 28, 1992
The details: Miller scored 57 points, most by an NBA Pacer, in a 134-122 victory at Charlotte. He set a franchise record for free throws made (21) and attempted (23) and hit 16-of-29 field goal attempts. He also had eight assists. With the Charlotte fans chanting "Reggie! Reggie! Reggie!" he missed three three-point shots down the stretch that could have given him 60 points.
The story: Miller was 27 years old and in his sixth season at this time.  He had led the Pacers in scoring the three previous seasons and would do so again this season and for the next six. But for some reason he had become hesitant to look to score.
"I just wasn't being Reggie," he said. "Enough is enough. It's time to get down to business."
A two-hour team meeting the morning of the game – the Pacers had lost four of their previous five games – had convinced Miller he owed it to the team to be more aggressive. He responded by driving to the basket, which got him to the foul line and put him in a scoring mindset.
"I've always said I need to take the ball to the hole, be aggressive, get into the mix of things early," he said. "I definitely have to make quick moves. That way, the defense adjusts to me rather than me adjusting to the defense."
The aftermath: You probably don't have to be reminded. Miller played 18 seasons, all for the Pacers, and delivered more clutch moments than any player in franchise history. He was inducted into the Naismith Hall of Fame in 2012.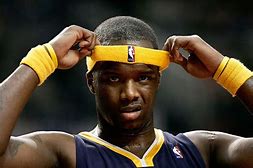 Jermaine O'Neal
The date: Jan. 4, 2005
The details: O'Neal hit 18-of-28 field goal attempts and 9-of-25 foul shot in a 116-99 victory at Bankers Life Fieldhouse. It set a fieldhouse record, surpassing Vince Carter's total of 45 in 2000. He scored the Pacers' first 14 points and 19 of their first 21. He got the assist on the basket that interrupted his streak.
The story: To be honest, O'Neal wasn't challenged much. Milwaukee was a bad team completing a four-game road trip and was without two centers, the injured Daniel Santiago and starter Dan Gadzuric, who left the game after three minutes with back spasms. The Bucks didn't bother to double-team him, either.
"That was the easiest 55 I ever saw," Miller, in trash-talking mode, said afterward. "At least I had to scratch and claw for mine. His was given to him."
To his credit, O'Neal didn't exploit the situation. He checked himself out of the game with 1:44 remaining, declining to go after Miller's NBA franchise scoring record and McGinnis' overall franchise record. The crowd of 14,738 gave him a standing ovation.
"The game was over," O'Neal said. I don't want to try to set records. It really means nothing to me. We don't want to try to throw it in another team's face. You want to show a lot of sportsmanship and obviously the game was over at that point."
Miller, more seriously, praised O'Neal's team-first approach.
"The shows what type of selfless leader he is," Miller said. "All his shots came within the context of the offense. He didn't try to force or try to get ahead of himself."
The aftermath: O'Neal averaged a career-high 24.3 points this season but was limited to 44 games because of injuries. He was named to the all-star team six times as a Pacer, most in franchise history, although he wasn't able to play the final time in 2007 because of injury. He was traded to Toronto for a draft pick that was used to select Roy Hibbert after the 2007-08 season and was a journeyman the rest of his career, playing for the Raptors, Miami, Boston, Phoenix and Golden State. He played in at least part of 18 seasons.
Tagged with:
Billy Knight
,
George McGinnis
,
Jermaine O'Neal
,
Mel Daniels
,
Reggie Miller
,
Roger Brown
,
T.J. Warren