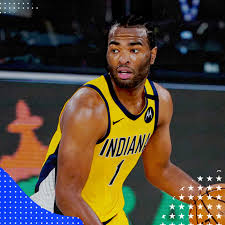 This article was written in October of 2019, before the Pacers' season began. It has turned out to be prescient and is worth revisiting given T.J. Warren's play in his first season with the franchise.
He averaged a career-high 19.8 points while shooting 54 percent from the field, including 40 percent from behind the three-point line. He was most impressive in the Orlando bubble after the season resumed, turning in a 53-point game on 20-of-29 shooting in the first game back and following with games of 34, 32 and, later, 39 points. He was mortal but solid in the four-game playoff series with Miami, averaging 20 points on 37 percent shooting.  
David West obviously knew something others didn't – including, perhaps, the Phoenix Suns. 
When the trade was announced last July, Pacers athletic trainer Dr. Josh Corbeil fired off a text to David West about the new acquisition.
"I swear I've known about that kid for 10 years," it read.
It was more like eight if we're going to nit-pick, but it probably felt like a decade to Corbeil. Throughout West's four seasons with the Pacers, during all those hours in the training room getting an ankle wrapped or receiving treatment for this sprain or that strain, he was constantly hyping the young kid coming up through his AAU program in North Carolina.
A kid West just knew was going to be a pro from the first day he saw him as a 10-year-old.
A kid West still believes has a deep reservoir of untapped talent that, if extracted, will make him an NBA All-Star.
That's how far West's back relationship with T.J. Warren goes. And that's how highly West thinks of Warren's future.
"All-Star caliber player," West says without hesitation.
West could be accused of bias, but BS is not his nature. Those close to him during his run with the Pacers, beginning with the 2011-12 season, regard him as one of the most mature players ever to wear the uniform. "Adult in the room" became a local cliché during that time, and he was the media's go-to guy in the locker room for honest analysis. Besides, he hyped none of his other Garner Road AAU players in Raleigh. Only T.J. Warren.
---
Tagged with:
David West
,
Josh Corbeil
,
Nate McMillan
,
T.J. Warren
,
Tony Warren