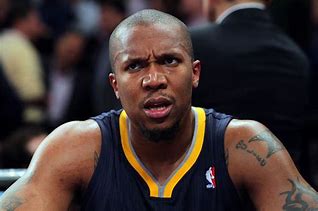 David West wasn't the best player ever to put on a Pacers uniform, merely one of the most impressive. Not for what he did on the court, where he was a supreme role player, but for the purity of his leadership, competitive spirit, and humility.
As someone who has watched Pacers games since the first season in 1967-68 and has written about their players with varying frequency for 40 years, including 12 years as the beat writer for The Indianapolis Star, I can't think of another player like him in the franchise's history. The Pacers have had future Naismith Hall of Famers, they've had some outstanding leaders and they've had plenty of really good people wear the uniform, but nobody has possessed the complete package better than West, who announced his retirement on Aug29, 2018, – the day he turned 38 – after 15 NBA seasons.
West played just four of those seasons for the Pacers, averaging 14 points and seven rebounds while delivering clutch performances and a healthy supply of intangibles. He departed amid some controversy after the 2014-15 season when he took a massive pay cut to opt out of his contract to play for San Antonio, and then signed two more one-year deals with Golden State. He won championship rings in each of those seasons with the Warriors, which provided the only riches that concerned him at the end of his career.
Some people accused him of chasing a ring. The more accurate summation would be that he was chasing his ideals.
As for those who couldn't understand why he would sacrifice a starting position, a leadership role and a massive amount of money to play off the bench, he had a ready answer when I talked to him before and after Golden State played at Bankers Life Fieldhouse in 2018.
"They don't know me and know the things I value," he said. "People who know me understood it and know how I think."
But let's step back before going deeper.
I first met West standing next to the putting green at the Brickyard Crossing golf course during the franchise's annual preseason golf outing in September of 2012. The Pacers were coming off an encouraging season in which they lost a six-game series to Miami in the second round of the playoffs. I had been otherwise occupied that season, so he didn't know me from the greenskeeper. But his unsmiling, quiet enthusiasm was memorable.
"We're gonna be good, man," he said. "I'm excited. We're huge."
The Pacers were good in 2012-13, overcoming a sluggish start to win 49 games and take Miami to seven games in the Eastern Conference finals. Over the course of that season and the two that followed, I got to know West much better and wrote about him frequently. His personal story was good enough and his play valuable enough to sustain several seasons worth of stories.
As anyone who covered those teams will tell you, he was the go-to guy after games, especially after losses when other players might not want to talk. He looked you in the eye and offered straight-up analysis, free of sugar coating or sour grapes. He was professional enough to avoid criticizing a coach or teammate but honest enough to avoid hype, especially involving himself. More than anyone in the locker room, and as much as any Pacer over the past few decades, he offered insight.
---
Tagged with:
David West
,
Golden State Warriors
,
Indiana Pacers
,
Larry Bird
,
Roy Hibbert
,
San Antonio Spurs