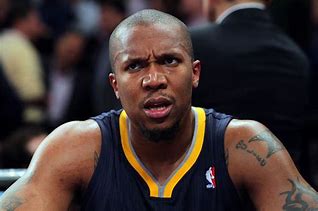 David West wasn't the best player ever to put on a Pacers uniform, merely one of the most impressive. Not for what he did on the court, where he was a supreme role player, but for the purity of his leadership, competitive spirit, and humility.
As someone who has watched Pacers games since the first season in 1967-68 and has written about their players with varying frequency for 40 years, including 12 years as the beat writer for The Indianapolis Star, I can't think of another player like him in the franchise's history. The Pacers have had future Naismith Hall of Famers, they've had some outstanding leaders and they've had plenty of really good people wear the uniform, but nobody has possessed the complete package better than West, who announced his retirement on Thursday – the day he turned 38 - after 15 NBA seasons.
West played just four of those seasons for the Pacers, averaging 14 points and seven rebounds while delivering clutch performances and a healthy supply of intangibles. He departed amid some controversy after the 2014-15 season when he took a massive pay cut to opt out of his contract to play for San Antonio, and then signed two more one-year deals with Golden State. He won championship rings in each of those seasons with the Warriors, which provided the only riches that concerned him at the end of his career.
Some people accused him of chasing a ring. The more accurate summation would be that he was chasing his ideals.
As for those who couldn't understand why he would sacrifice a starting position, a leadership role and a massive amount of money to play off the bench, he had a ready answer when I talked to him last March, before and after Golden State played at Bankers Life Fieldhouse.
"They don't know me and know the things I value," he said. "People who know me understood it and know how I think."
But let's step back before going deeper.
I first met West standing next to the putting green at the Brickyard Crossing golf course during the franchise's annual preseason golf outing in September of 2012. The Pacers were coming off an encouraging season in which they lost a six-game series to Miami in the second round of the playoffs. I had been otherwise occupied that season, so he didn't know me from the greenskeeper. But his unsmiling, quiet enthusiasm was memorable.
"We're gonna be good, man," he said. "I'm excited. We're huge."
The Pacers were good in 2012-13, overcoming a sluggish start to win 49 games and take Miami to seven games in the Eastern Conference finals. Over the course of that season and the two that followed, I got to know West much better and wrote about him frequently. His personal story was good enough and his play valuable enough to sustain several seasons worth of stories.
As anyone who covered those teams will tell you, he was the go-to guy after games, especially after losses when other players might not want to talk. He looked you in the eye and offered straight-up analysis, free of sugar or sour grapes. He was professional enough to avoid criticizing a coach or teammate, but honest enough to avoid hype, especially involving himself. More than anyone in the locker room, and as much as any Pacer over the past few decades, he offered insight.
Any story you read about him now will likely include the cliché that he was "the adult in the room." And it's true. He held the most influence in the Pacers' locker room without being outspoken, without even being talkative. In fact, as a natural introvert, he preferred not having to say anything. But he could lead without speaking and his younger, less mature teammates - most notably Paul George, Lance Stephenson and Roy Hibbert - needed every example they could get from him.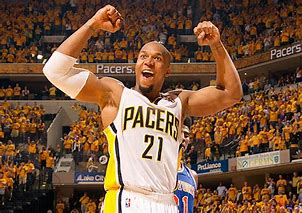 Remember when the Pacers upset Miami, in Miami, in Game 2 of the Eastern Conference semifinals in 2012? Some of his giddy teammates were celebrating at midcourt as if they had just won a championship. West was the guy standing off to the side and waving them to the locker room. They hadn't won anything yet.
And remember when the Pacers returned home to win Game 3 as well, taking a 2-1 lead in the series? Coach Frank Vogel gave the players the next day off to rest. But West, knowing Miami would be practicing and regrouping, talked Vogel into calling off the day off. So the Pacers met as well.
West brought a fearless macho presence to games and was the second-greatest clutch performer in the Pacers' NBA history behind Reggie Miller. He had a knack for making crucial plays, scoring or otherwise, and never let ego get in the way of his performance. He wanted no attention for himself.
Remember that exhibition game the Pacers played at Xavier, where he had been so popular his jersey number was retired before he left school? West appreciated his experience there, but had no interest in being the center of attention.
Those examples, however, don't begin to explain the breadth and depth of West's influence. Adult in the room? He was the adult in the community. He went where few athletes go to try to, as he put it, "butt in" to the lives of kids who needed help, just as adults had once butted into his life and made him go out for basketball when he was the timid new kid in high school in Garner, North Carolina.
NBA athletes are required to participate in community service projects, but West went well beyond the norm of visiting a school or a hospital now and then. He got down and dirty and tried to reach the kids who needed help the most. In high school, where he was a raw, late-blooming basketball player and one of the most popular and intimidating figures in school, he was the student who protected the preyed-upon kids and confronted the bullies. His NBA riches never numbed that mindset.
I once accompanied him on a trip to the Pendleton Correctional Facility, where he spoke to the prison inmates after practice one day. It wasn't just a one-off, but rather the continuation of a practice he had begun early in his career while playing for New Orleans. He gave a sincere, straightforward message, free of meaningless bromides. He told them excuses would do them no good and not to expect anyone to feel sorry for them. He also reminded them they were a commodity in a profit-making enterprise and shouldn't succumb to a life caught in the penal system's conglomerate gears.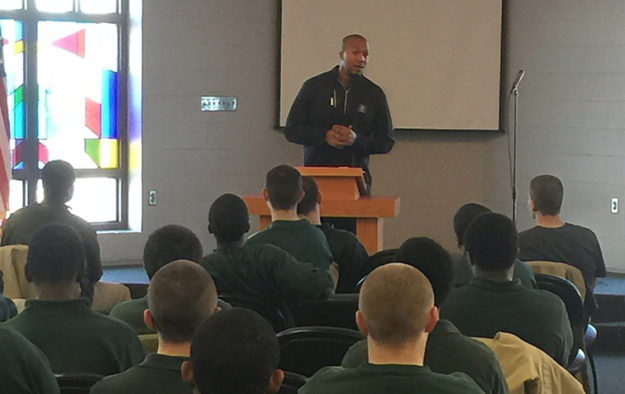 "Nobody takes the time to encourage them and meet them where they are," he told me on the way to Pendleton.
"I don't know what everybody's circumstance is, but I know words have a lot of power. I don't have to come out here, but I feel like it's worth it, just to let them know not everybody has written them off. Just because you made a mistake as a 14-year-old, you don't have to be confined here for the rest of your life."
He later agreed to accompany me to a local boxing gym in a rundown area on E. 10th St to meet Anthony Sims, a promising light heavyweight who, along with his mother, was offering neighborhood kids a place to train and get their lives in order. As a serious boxing fan who made boxing part of his summer training program, he likely would have become involved in the club had he not left the Pacers after the 2014-15 season.
Leaving as he did, opting out of a contract that would have paid him $12 million for a minimum deal for $1.5 million, sullied West's reputation among Pacers fans. The fact that he criticized Pacers president Larry Bird in one interview for what he regarded as unfair criticism of Roy Hibbert clouded his relationship with the franchise.
West, however, told me a different story in March. The only time he had signed a contract for the purpose of winning a championship, he said, was when he signed with the Pacers – first a two-year deal in 2011, and then a three-year deal in 2013. Signing with San Antonio in 2015 when it was obvious the Pacers were no longer a title contender was for the purpose of examining a different environment and relieving the burden of leadership.
"Life is about experiences," he said then, a point he repeated in the meme he posted on Twitter to announce his retirement. "I just looked at my overall journey and I wanted that experience. I didn't value it as much early on in my career, but your values change as you mature.
"When I went (to San Antonio) … that was my favorite team growing up. As a child I was a David Robinson fan, a Tim Duncan fan. That was a dream situation. That was the only chance I had in my career to get in that environment, so I at least wanted to give myself a shot to be in the mix and see what that was all about."
West didn't win a championship with San Antonio, but he did with Golden State. Twice. And although he averaged just 4.5 points in the postseason in 2017 and 3.3 points this year, he was a valuable contributor and got what he wanted out of the experience. His uncharacteristic display of emotion in the postgame locker room after the Warriors clinched the 2017 title made that obvious.
"The rush was better than I anticipated," he said, reflecting on the first title.
Despite his diminished role with the Warriors, his intangible contributions continued. Coach Steve Kerr praised him in March for his "incredible leadership" and "force of will" and called him "one of the finest people I've been around  in this league."
"His moral fiber is apparent every single day," Kerr said. "He's a huge part of our team. His impact goes way beyond what he does on the court. His mentoring on and off the court of our younger guys is fantastic."
West, though, didn't have to be the leader with the Warriors or Spurs. And that was the point. He could just be one of the guys, playing an important backup role while surrounded by exceptional teammates. He only played about a quarter of each game, saving wear and tear on his aging body. He wasn't a go-to guy on or off the court. It seemed the perfect way to close out a career, free of physical and emotional burdens.
"I loved my time (with the Pacers) and I loved the guys in the group," he said. "But the dependency on me was starting to weigh me down. I thought there's no way I could be worried about so many different components and have to figure out where a few guys were mentally and then control my own emotions and mental state and go out there and perform. It just got to be a bit much.
"I was in that role most of my career. Take away these last three seasons and my first two in New Orleans, for 10 years it was about (having to lead). It gets to a point where it starts to wear you out. You know you're the guy Coach is going to call first to run this by you, the assistant coach is going to call first, the GM is going to ask you stuff, players are going to ask you stuff.
"I just wanted to be able to learn and be around different environments. Be in an environment where it's just about winning. Just go out and play free and not have any pressure."
One other factor nudged him out the Pacers' door. George had broken his leg in the summer of 2014 and returned for the final six regular season games the following season. He was due to return full-time for the 2015-16 season, and was clearly becoming the team's centerpiece. Although George didn't turn out to be the leader the Pacers needed, nobody knew that in 2015. West at the time believed it was best to get out of the way to smooth the transition.
"It was his time to take the reins," West said. "I don't think he would have been able to do that if I was still here. It really came down to that, and knowing where I was financially."
West kept his house in Indianapolis while he played for San Antonio and Golden State. It was paid for, he said, and someone was looking after it. He also said, however, he plans to retire back in North Carolina, where he'll no doubt find plenty of ways to contribute to the community beyond the AAU team he sponsors.
West's time with the Pacers didn't work out as everyone hoped. The optimism he felt standing next to the putting green that day in 2012 didn't yield a championship. So be it. His motives were pure, his influence was huge, and everyone was better for the experience.
Tagged with:
David West
,
Golden State Warriors
,
Indiana Pacers
,
Larry Bird
,
Roy Hibbert
,
San Antonio Spurs