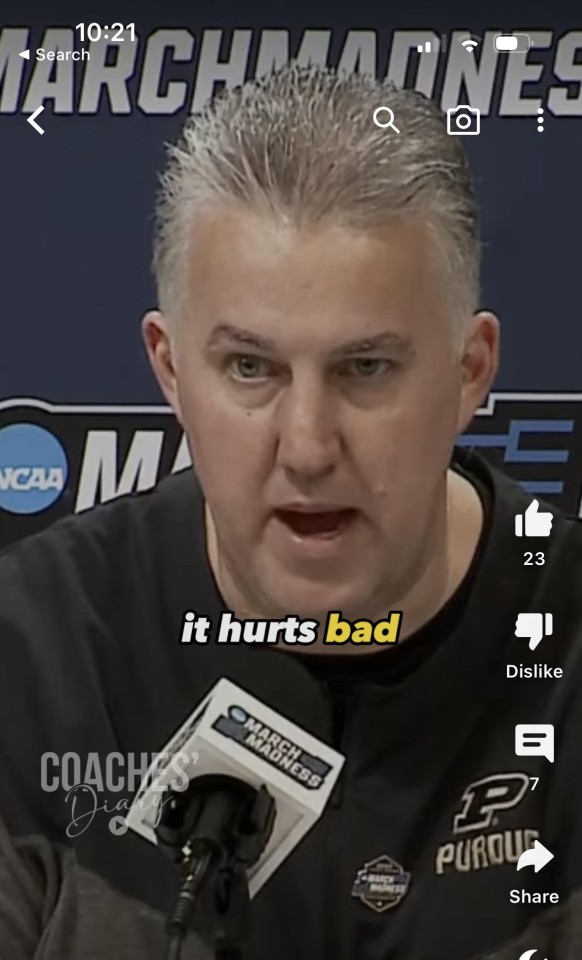 Matt Painter has gotten himself into a fine mess, hasn't he? He's been so successful in the long runs of regular seasons that he's raised expectations to the roof in the short runs of the postseason. But, lately, his teams have struggled to get off the ground in the games regarded as the most important.
Painter has been voted the Big Ten Coach of the Year four times. His teams have four regular season conference titles and two postseason tournament titles. They have qualified for the NCAA tournament 15 times in his 19 seasons. His former players are extremely loyal to him. He treats fans and the media with respect. He appears to be everything a college basketball coach should be. But things have gotten to the point some Purdue fans are reaching for the pitch forks and torches. They want him fired.
As of now, it doesn't seem to matter what Purdue accomplishes next season – and it could accomplish plenty if Zach Edey returns. It could go undefeated in the Big Ten and tack on another championship to its league-leading total and people still will stand back with arms folded and say, "Big deal, show me something in March."
That's a shame. It's unfair, too. Cruel, even. But, also, reality.
Purdue's loss to 16th-seeded Fairleigh Dickinson last week further cemented the program's reputation for tournament flops. It's being called the worst loss in the history of the tournament, which is saying something for an event that goes back to 1939. It's worse than that, however. It was the third consecutive year the Boilermakers have lost to a double-digit seeded team, following last year's loss to St. Peters (15) and the 2021's loss to North Texas (13). And, really, Purdue's tournament frustrations go back much further than that - like nearly 40 years, all the way to the mid-Eighties and the early seasons of predecessor Gene Keady's run.
It's no wonder Purdue fans are frustrated. But while the causes of the latest and the previous shortcomings should be obvious to any clear-thinking observer, Painter is taking the heat.
He faced the music unblinkingly after the loss to FDU, acknowledging that he and his program are going to have to "sit in it." He knows what's coming. Never mind that his team, which had been picked to finish fifth in the Big Ten, achieved a No. 1 national ranking for multiple weeks, won the Big Ten regular season championship and followed up with the rare and difficult double of winning the conference tournament as well. Purdue's players and coaches are widely regarded as failures.
They set themselves up for it, really. Their regular season success lifted the hopes of the fan base yet again and the players doubled down on it by boldly stating their desire to get to the Final Four - something a Purdue team hasn't done since 1980. Anything less than that was guaranteed to be regarded as a(nother) disappointment.
Some perspective, please.
Winning a Big Ten championship, especially the regular season version, is a big deal. Former Michigan State coach Jud Heathcote once told me he believed Bob Knight valued winning the conference title more than the NCAA tournament because of all the work that goes into the regular season. Winning any single-elimination tournament, even the ultimate one, is a crapshoot usually reliant on a past on the back from fickle fate. A missed free throw here, a referee's call there, an uncharacteristically hot or cold shooting game everywhere. A coach's influence shrinks in that environment and has less impact than over the course of the regular season.
Our neurotic culture lacking an attention span disagrees, however. Only the ultimate prize matters. That way, the non-participants can celebrate and brag about something other people accomplished rather than put in the work to achieve on their own.
Superficially, it's always easy to blame the coach. Something always could have been done differently. Fundamentally, however, it's not that simple. Fact is, two primary and should-be obvious reasons explain Purdue's recent tournament woes. One has nothing to do with Painter and the other relates only indirectly.
Clearly, three-point shooting has hijacked the modern game. The shooters have gotten so good it only makes sense to make it a crucial element of any offense. But in its past three tournament losses, Purdue has hit a combined 19-of-77 three-pointers. Round up, and that's a whopping 25 percent.
It hit just 5-of-26 attempts (19 percent) in the loss to Fairleigh Dickinson. It got so bad wide-open and supposedly good shooters were afraid to even take a crack at one in the final minutes, preferring instead to play hot potato while Edey was being mugged in the lane. No wonder he put his fist through that whiteboard in the locker room afterward.
True, FDU hit only 7-of-23 three-pointers, but those extra six points were all it needed in a five-point victory. Just imagine: If Purdue had managed to make even 7-of-26 three-point shots – a still-lousy 27 percent – it would have won.
If you're prone to holding a coach responsible for bad shooting, perhaps for failing to whisper the magic words that would have made his players more accurate, then be sure to also give Painter credit for Carsen Edwards' scorched earth run through the 2019 tournament. Edwards made 28 three-pointers in four games that year and scored 42 points in the heartbreaking overtime loss to Virginia that would have sent Purdue to the Final Four. It has to work both ways.
It's not as if Painter hasn't recruited shooters. He promised himself about 10 years ago he would recruit one in each class. They show up on campus, but they don't always show up in the tournament; certainly, not for the past three years.
Fletcher Loyer was recruited as a shooter and lived up to his job description for half the season. He scored 14 points against Gonzaga, 20 against Duke, 20 in the Big Ten opener against Minnesota, and 22 at Nebraska. He had a poor shooting game at Ohio State and got benched for the start of the second half but hit the game-winning three on a kickout from Edey. He scored 27 points in the rematch with Nebraska and followed with 17 at Michigan State. But he hit just 37 percent from the field the rest of the season, including 33 percent of his threes. He missed three of four foul shots down the stretch in the Big Ten tournament championship game over Penn State. And he was mostly a non-factor against FDU until it was too late.
Point guard Braden Smith hit 41 percent of his three-pointers in the regular season – a better percentage than Loyer - but just 3-of-16 in the Big Ten and NCAA tournaments, including 1-of-6 against FDU. Mason Gillis was a 37 percent three-point shooter during the regular season and hit nine of them against Penn State but hit 1-of-7 against FDU.
Hard to win that way.
It's possible Purdue ignored a perimeter shooting option. I asked Painter a few months ago if Edey was capable of stepping out and hitting mid-range shots. He said yes, but they didn't need him to do it. I wondered about that then and still do. Planting Edey away from the basket would have negated double- and triple-teams and created opportunities for teammates. It also would enhance his draft stock. Perhaps that's a good reason for him to return for another season. Add that to his arsenal and he's practically a lock to be drafted in the first round and rake in guaranteed money.
Some have argued Purdue needs to get away from running their offense through post players but it makes no sense to ignore a threat as dominant as Edey if you can find them. But accurate and better-than-crappy perimeter shooting to complement it is a necessity. Purdue had it often enough in the regular season, and barely often enough to get through the Big Ten tournament, but not at all often enough to defeat FDU.
Sometimes, poor shooting can be overcome with raw athleticism. That has been the biggest issue for Purdue teams in tournament play. It also remains Painter's biggest recruiting challenge. Compared to the Houstons and Alabamas and Tennessees and Kansas States of the tournament – for that matter, nearly every team that will compete in this weekend's Sweet 16 - the Boilers came off looking like a JV squad. Slower, smaller, less aggressive. That meant they struggled to come up with 50-50 balls, contain the dribble, get to the rim, score in transition and break a fullcourt press. Indiana, by the way, looked similarly overmatched along those lines in its second-round loss to Miami.
You can blame Painter for not recruiting better athletes but that's a dicey accusation. He has tried. Some of his bona-fide athletes over the years turned out not to be good fits for his program. He's tried to get others but failed.
Purdue fans don't want to hear it, but it's not the easiest place to recruit to – and often for positive reasons. It tries to uphold academic standards for athletes. The university also has, with few exceptions, adhered to NCAA rules. That's especially true for Painter's program. I spent two seasons with his teams, from 2010-12, with complete insider access and know firsthand how cleanly he and his coaches have operated. I didn't see the slightest hint of impropriety.
Cheating is more difficult now that NIL has taken over the landscape of college athletics, but Purdue operates at a disadvantage there, too. It's trying to remain sane amid the current chaos by rewarding athletes for their work and popularity without becoming mercenaries. They lost one high-profile transfer from Indianapolis, point guard Nijel Pack, last summer when a Miami businessman laid out $800,000 to woo him to South Beach. Painter offered other point guards as well, but they went elsewhere.
The player Painter finally lured, David Jenkins, was a great fit and contributed plenty as a backup but he didn't boost the team's athleticism. Smith was impressive running the point for most of the season, especially for a freshman, but a quicker and more experienced guard such as Pack could have been a difference-maker against FDU.
It's well-established that the best formula for NCAA tournament success is having future pros. Especially future NBA players. Especially future first-round draft picks. This Purdue team had no obvious players of that quality. Edey might be one someday if he proves he can score from the perimeter but this was not one of the most talented teams in the country, seeding be damned.
So, yeah, recruit better, Painter. Get those studs we'll see playing in the Final Four. But make sure they're good students, too. And don't cheat. Or overpay.
Make no mistake, Purdue should have beaten FDU. Should have beat St. Peters and North Texas, too. But was it going to win the national championship any of the past three seasons? Highly unlikely. Would advancing another round or two in the NCAA tournament any of those years really have mattered? Not much.
Rather than ask why Purdue lost to FDU, the better question might be how such a young and relatively unathletic team with no obvious future pros managed to dominate the Big Ten. Maybe the answer is, "Good coaching."
Regardless, Painter and next year's players are stuck with a reputation that will follow them like toilet paper on the bottom of a shoe. The memes and social media posts will be incessant and insulting, no matter what happens during the regular season.
My advice? Tell everyone (silently) to stick it.
They're here to satisfy themselves, not the rest of the world. Keady addressed the issue back in the 1987-88 season when I had insider access to write a book, "Passion Play: A Season with the Purdue Boilermakers and Coach Gene Keady."
Even then Purdue was dealing with a reputation for postseason disappointments, having lost opening games to Memphis State in 1984, Auburn in '85, LSU in '86 and Florida in '87. The games against Memphis State and LSU were played on their home courts, something not allowed to happen today. It's also relevant that Memphis State and Florida were later found guilty of major NCAA violations and LSU was investigated and charged with minor abuses.
As for Auburn, its most noted basketball alum, Charles Barkley, once admitted to offering money to Dirk Nowitzki to lure him to enroll there.  Told that was cheating, Barkley said, "Man, we're in the SEC. If you ain't cheating, you ain't trying."
Against that backdrop, as his team was preparing for the 1988 NCAA tournament, after it had won the Big Ten title by two games, Keady had this message for his players:
"I tell you one thing, you're not going to ruin my damn summer if we get beat. We're going to walk out of here with our heads up. We want to win the national tournament in the worst way. But if we don't do it, we're going to walk out of here and say we tried our best. If we can do that we'll sleep well. I sleep great every night. It's been a tremendous year. Whatever we do from here on is icing on the cake."
Keady's teams never did reach a Final Four, peaking with a trip to the final eight in 2000. Painter inherited that legacy and has yet to rewrite it, although his team was within a Ryan Cline missed free throw as well as a fluky bounce and assist after a Virginia missed free throw of getting there in 2019.
Painter and his returning players should keep Keady's message in mind over the "damn summer" and into next season. If the core players return, they'll be a year older, wiser and better. They're also getting help from a few promising newcomers and perhaps transfers as well.
The quest to become more athletic has to continue. Painter likely needs to make some adjustments in his approach. Perhaps it's time to become less structured. Bring in hypnotists, whatever. Maybe the university must become more competitive in the NIL world.
Whatever. Just keep trying and let the chips fall. Maybe the shots will, too.
Tagged with:
Gene Keady
,
Matt Painter