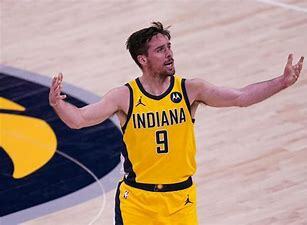 (This story originally was written in the 2020-21 season to explain why TJ McConnell should be the Pacers' starting point guard, with Malcolm Brogdon sliding off the ball.  Now that Tyrese Haliburton has been acquired, it has been updated to explain why McConnell should continue to be a major part of their plans going forward.)
Time was a strong case could be made for T.J. McConnell to be the Pacers' starting point guard. A deep dive into his stats along with the good old-fashioned eye test were enough to convince me.
Despite Malcolm Brogdon's presence, status and contract, McConnell was their best player at that position despite starting just three games in the 2020-21 season. Extrapolate the numbers over 36 minutes per game to eliminate the factor of playing time and he averaged 9.1 assists, 2.7 turnovers and 2.6 steals per game. Brogdon, the starting point guard, averaged 6.1 assists, 2.1 turnovers and 0.9 steals on the same scale.
Brogdon, who averaged a team-high 21.2 points in the '20-21 season, scored about twice as much as McConnell per 36 minutes but he also took about twice as many shots. Overall, McConnell had the superior field goal percentage and offensive rating.
Brogdon was a good player for the Pacers during his three seasons with them, but it became apparent he was best suited to play off the ball, as he did in Milwaukee. He was voted Rookie of the Year there and in his third season with the Bucks (2018-19) accomplished the rare 50-40-90 trifecta - shooting better than 50 percent from the field, 40 percent from three-point range and 90 percent from the foul line.
He didn't shoot nearly as well with the Pacers. Playing point guard usually is not conducive to shooting well. Handling the ball is enough of a chore and good shots – open, with feet set – are more difficult to come by than for a player running off picks. He also was a ball-dominant guard who became the loose bolt in the Pacers' offensive machinery. While he was willing to give up the ball after penetrating, he was far from a quarterback who made the players around him better.
The Pacers acknowledged that when they traded him to Boston in July of 2022. Perhaps he could have been an effective backcourt mate with Haliburton, but Buddy Hield was nearly as capable and far less injury prone. One of them had to go and it made more sense to keep Hield (for now).
McConnell should fit well as a backup to Haliburton as well as an occasional running mate. Coach Rick Carlisle doesn't mind playing two point guards together and Haliburton is a capable three-point shooter who can play off the ball. McConnell, meanwhile, has proven he's a distributor and leader who can bring out the best in teammates.
McConnell can score – he's shot better than 50 percent from the field for his career and is deadly from mid-range - but he's a pass-first guard who will mesh well with nearly any group of players who can move without the ball and score.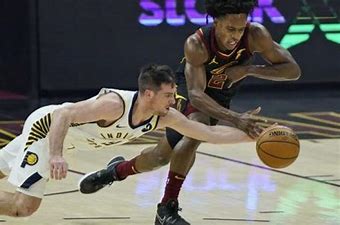 Some will argue he would be a defensive liability as a starter, but that's a difficult point to prove after he led the league in total steals in 2020-21 with 128. Miami's Jimmy Butler was the NBA's official steals leader with 2.1 per game while McConnell averaged 1.9, but McConnell played 7.6 fewer minutes per game than Butler. And, no, McConnell didn't get steals by taking risks. He got them by swiping inbound passes, sneaking up behind ballhandlers in transition and making heads-up plays from the weakside. He stayed in front of his man in the halfcourt defense as well as anyone on the roster.
Besides, what if I told you McConnell played point guard in 2020-21 as well as any NBA Pacer ever has, if not better. Compare his stats to those of Mark Jackson, Jamaal Tinsley, Vern Fleming and George Hill when they were 28 years old, as he was that season, and he compares favorably.
With all stats adjusted to 36 minutes per game, McConnell had more assists and steals than all of them. He had fewer turnovers than Jackson and Tinsley and barely more than Fleming and Hill. He scored less over 36 minutes than all but Jackson but also took fewer shots than all but Jackson. His field goal percentage was best of all of them.
He's also proved he's capable of producing starter quality stats when giving starter minutes. 
He's played 30-39 minutes in 68 games throughout his career. In those games he's averaged 10.6 points on 52.3 percent shooting, 8 assists, 4.5 rebounds and two steals. That would be a welcome stat line for any team, and McConnell has shown he can throw in the occasional gem such as the one he produced at Cleveland in 2020-21 when, in 36 ½ minutes, he scored 16 points on 8-of-8 field goal shooting, passed out 13 assists and picked off a franchise record 10 steals.
He even played 40 or more minutes for the first time in his career in 2020-21. He averaged 19.7 points, 7.2 assists, 2.7 steals and five rebounds in those games.
McConnell's primary challenge, at least in the eyes of fans and some media members, is that he's so easily stereotyped. He was undrafted, which labeled him as an outsider from the outset. That's a difficult reputation to shake. He also has a boyish persona, giving off the aura of the younger brother who gets into games only because somebody had to go home early. He jokes around a lot, too, chatting up opposing players and fans, although he turns blandly serious during interviews.
That's all a facade, though. McConnell is an alpha-dog in disguise.  His diving lunges for steals and headlong dashes into the lane for layups or assists inspire fans and teammates alike. Every workplace needs an employee who brings enthusiasm and confidence that influences co-workers and McConnell did that better than any Pacer the past couple of seasons.
It can no longer be argued McConnell should start for the Pacers given the acquisition of Haliburton. But his value as a player and a mentor hasn't changed.  He proves it every game.
(156) T.J. McConnell Drops A Triple-Double With FRANCHISE-RECORD 10 Steals! - YouTube
(104) T.J. McConnell Steals 54 Inbounds Passes - NBA Career Highlights - YouTube
Tagged with:
T.J. McConnell