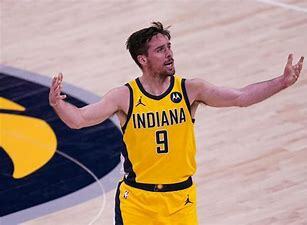 Updated 11-7-21
The Pacers are a mysterious team, their quality and potential stubbornly unknown and perhaps untapped because injuries keep getting in the way. They haven't advanced past the first round of the playoffs since 2014, but they also have been missing a crucial starter for a majority of their games in most seasons since then. Passing judgement on the team and the front office remains premature.
Some shortcomings, however, won't magically disappear regardless of the arrival of a new head coach, Rick Carlisle, or improved health.
Such as:
They lack an on-court leader, a coach-on-the-floor type who brings inspiration and instruction to his teammates.
Point guard Malcolm Brogdon is playing out of position.
Their halfcourt offense tends to become stagnant, bogged down by Brogdon and Domantas Sabonis picking and rolling while teammates are standing and watching -- or, someone forcing a one-on-one effort.
When all of their intended starters are available, they lack a non-scoring, chemistry-inducing role player the likes of which most successful teams possess.
Here's a one-stop solution to each of those issues: T.J. McConnell, who puts the pieces in place for a puzzling team.
McConnell was the Pacers' best point guard last season despite starting just three games. Extrapolate the numbers over 36 minutes per game to eliminate the factor of playing time and he averaged 9.1 assists, 2.7 turnovers and 2.6 steals per game. Brogdon, the starting point guard, averaged 6.1 assists, 2.1 turnovers and 0.9 steals on the same scale.
Brogdon, who averaged a team-high 21.2 points last season, scored about twice as much as McConnell per 36 minutes but he also took about twice as many shots. Overall, McConnell had the superior field goal percentage and offensive rating.
Brogdon is a good player but two seasons into his career with the Pacers we have ample evidence that he's best suited to play off the ball, as he did in Milwaukee. He was voted Rookie of the Year there and in his third season (2018-19) accomplished the rare 50-40-90 trifecta - shooting better than 50 percent from the field, 40 percent from three-point range and 90 percent from the foul line.
His shooting percentages have dropped off considerably with the Pacers, although they improved last season over two seasons ago when he was making the adjustment to a new position. Playing point guard usually is not conducive to shooting percentages.  Handling the ball is enough of a chore and good shots – open, with feet set – are more difficult to come by. Put McConnell at point guard and Brogdon at shooting guard and he likely returns to the elite shooter the Pacers are paying $20 million per year.
Brogdon's ball-dominating style of point-guarding has the loose bolt in the Pacers' offensive machinery, and will become a greater problem when T.J. Warren returns. Brogdon, Sabonis and Warren all are basically 20-point scorers. Myles Turner once was regarded as one as well but has accepted a reassignment to a role-playing forward. He had scored 20 points or more 54 times in his career heading into this season, however, had reached 30 twice and broke loose with a 40-point game against Washington on Oct. 22. He's obviously a capable scorer, too.
Without a genuine superstar to build around and just one selected All-Star (Sabonis), the Pacers' strength is in their balance. To take advantage of that, however, they need a distributing point guard more than a scoring point guard. McConnell can score – he's shot better than 50 percent from the field for his career and is deadly from mid-range - but he's a pass-first player who would mesh perfectly with the other four starters.
He's made just 31 percent of his three-point attempts in two seasons with the Pacers but made that the focus of his offseason workouts with his father and shows hints of improvement. Even if he doesn't become a viable long-range threat, however, the Pacers have enough of those. Far better to have a playmaking point guard who doesn't hit many threes than a three-point shooting point guard who isn't a playmaker.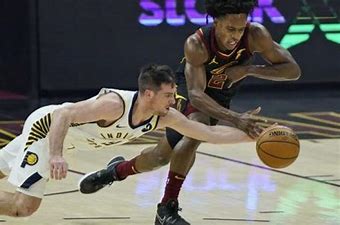 Some will argue he would be a defensive liability as a starter, but that's a difficult point to prove after he led the league in total steals last season, with 128. Miami's Jimmy Butler was the NBA's official steals leader with 2.1 per game while McConnell averaged 1.9, but McConnell played 7.6 fewer minutes per game than Butler. And, no, McConnell didn't get steals by taking risks. He got them by swiping inbound passes, sneaking up behind ballhandlers in transition and making heads-up plays from the weakside. He stayed in front of his man in the halfcourt defense as well as anyone on the roster.
Besides, what if I told you McConnell last season played point guard as well as any NBA Pacer ever has, if not better. Compare his stats to those of Mark Jackson, Jamaal Tinsley, Vern Fleming and George Hill when they were 28 years old, as he was last season, and he compares favorably.
With all stats adjusted to 36 minutes per game, McConnell had more assists and steals than all of them. He had fewer turnovers than Jackson and Tinsley and barely more than Fleming and Hill. He scored less over 36 minutes than all but Jackson but also took fewer shots than all but Jackson. His field goal percentage was best of all of them.
It's not like making McConnell a fulltime starter would be a treacherous dive into murky, unknown waters. He did it 78 times in the NBA before this season and has performed well as a starter this season. His stats are undeniably of starter quality when given starter minutes.
He's played 30-39 minutes in 61 games throughout his career. In those games he's averaged 10.3 points on 52.5 percent shooting, 8.4 assists, 4.4 rebounds and two steals. That would be a welcome stat line for this particular Pacers team, and he would throw in the occasional gem such as the one he had at Cleveland last season when, in 36 ½ minutes, he scored 16 points on 8-of-8 field goal shooting, passed out 13 assists and picked off a franchise record 10 steals.
He even played 40 or more minutes for the first time in his career on three occasions last season. He averaged 19.7 points, 7.2 assists, 2.7 steals and five rebounds in those games. Nothing wrong with that stat line, either. He reiterated his capabilities as a starter at the start of the current Western road trip by scoring 19 and 18 points against Portland and Sacramento.
Given his past performances, McConnell could be trusted to deliver about 8 assists per game as a starter, perhaps more if the Pacers have their full complement of starters for reasonable stretches of games. The Pacers haven't had a point guard average 8.4 assists as he did over 36 minutes last season since Jackson in 1997-98, when he averaged 8.7. Jackson was surrounded by shooters that season as McConnell would next season. A point guard doesn't just benefit from being with shooters, however. He makes them better shooters by getting them the ball in the right place at the right time.
And there's this: he rarely misses a game. If there's any position that demands consistency it's point guard, and McConnell is the best candidate to provide it. Brogdon is injury-prone, and his comings and goings hamper chemistry.
I haven't forgotten about Caris LeVert, who averaged 20.7 points in 35 games with the Pacers last season. He just happens to be perfect for a sixth man role. He can back up three positions and still would get starter minutes while bringing scoring punch off the bench. And let's be realistic, with the knack some of the Pacers have for being injured, he likely would have plenty of starting opportunities, too. LeVert is a high volume but average shooter, exactly what the Pacers don't need in their starting lineup.
So, with the numbers and needs favoring McConnell so clearly, why has he been overlooked as a starter? He gets stereotyped. He was undrafted, which labeled him as an outsider from the outset. That's a difficult reputation to shake. He also has a boyish persona, giving off the aura of the younger brother who gets into games only because somebody had to go home early. He jokes around a lot, too, chatting up opposing players and fans, although he turns blandly serious during interviews.
Some also would say he's too short. But he's listed at 6-foot-2. That's three inches shorter than Brogdon but just one inch shorter than Steve Nash and one inch taller than John Stockton and Isiah Thomas. Quickness, vision, unselfishness and leadership are far more important than verticality for a point guard.
Playing hard matters, too, and McConnell's diving lunges for steals and headlong dashes to the basket for layups or assists inspire fans and teammates alike. Every workplace needs an employee who brings enthusiasm and confidence that influences co-workers and McConnell does that better than any Pacer.
Carlisle has shown faith in McConnell early this season, sometimes by necessity. He hasn't been afraid to pair him with Brogdon, either, a hint that he might b willing to go that direction. The Pacers have showed faith in McConnell as well by signing him to a four-year, $32 million contract over the summer. Starting McConnell might require adding another point guard to the roster but that can be done easily enough, especially for a team with too many wings.
The bottom line is this: It would be a worthy experiment to start McConnell and see what happens. Something surely would, and the upside would be far greater than the downside for a team so obviously in need of what he's got.
(156) T.J. McConnell Drops A Triple-Double With FRANCHISE-RECORD 10 Steals! - YouTube
(104) T.J. McConnell Steals 54 Inbounds Passes - NBA Career Highlights - YouTube
Tagged with:
T.J. McConnell