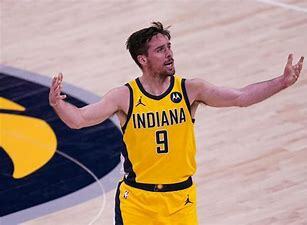 The Pacers are a mysterious team, their quality and potential stubbornly unknown and perhaps untapped because injuries keep getting in the way. They haven't advanced past the first round of the playoffs since 2014, but they also have been missing a crucial starter for a majority of their games in most seasons since then. Passing judgement on the team and the front office remains premature.
Some shortcomings, however, won't magically disappear in the upcoming season regardless of the arrival of a new head coach, Rick Carlisle, or improved health.
Such as:
They lack an on-court leader, a coach-on-the-floor type who brings inspiration and instruction to his teammates.
Point guard Malcolm Brogdon is playing out of position.
Their halfcourt offense tends to become stagnant, bogged down by Brogdon and Domantas Sabonis picking and rolling while teammates are standing and watching – or, someone forcing a one-on-one effort.
When all of their intended starters are available, they lack a non-scoring, chemistry-inducing role player the likes of which most successful teams possess.
Here's a one-stop solution to each of those issues: T.J. McConnell, who puts the pieces in place for a puzzling team.
McConnell, recently signed to a four-year contract, was the Pacers' best point guard last season despite starting just three games. Extrapolate the numbers over 36 minutes per game to eliminate the factor of playing time and he averaged 9.1 assists, 2.7 turnovers and 2.6 steals per game. Brogdon, the starting point guard, averaged 6.1 assists, 2.1 turnovers and 0.9 steals on the same scale.
---
Tagged with:
T.J. McConnell