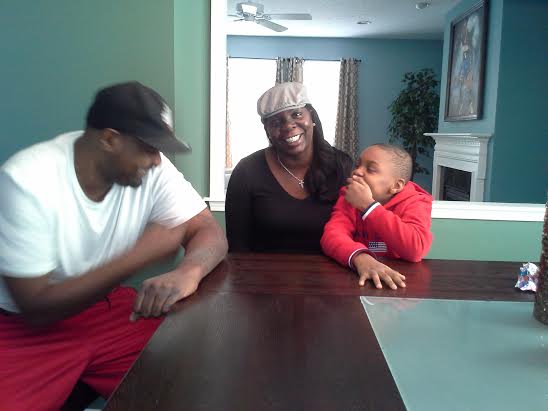 I was proud to be able to get this story. Lance Stephenson's parents hadn't felt comfortable with the Indianapolis media when the family arrived, believing some of the coverage had been unfair. I wasn't covering the Pacers at the time, so they couldn't blame me for it. I was fortunate to hit them up when Lance was playing well. I found them in the family lounge at Bankers Life Fieldhouse and they agreed to meet with me.
I got in a little trouble with front office folks for going in there because it's supposed to be only open to family members and friends who have been given a pass, but it was worth the risk. Lance's parents couldn't have been nicer to me. Lance's father later recorded a One on One episode with me, too.
Stephenson's future with the Pacers seemed awfully bright at the time of this story, but we know how it turned out. The Stephensons didn't stay, after all. Lance came back a couple of years later, but his parents stayed in Las Vegas. Now Lance lives in Zionsivlle. I'm not sure where his parents are living, probably Vegas.
Still, this story offered insight into their lives during his first run with the team that was surprising to most people. 
The doorbell rings, and Mom gets up to answer. Lantz Stephenson has just arrived home on the school bus, all smiles, welcomed into the modern, spacious house in the southeast suburbs of Indianapolis as if he were stepping into a 1950's sitcom.
Mom and dad are waiting for him. The missing family member, oldest brother Lance, is away on a road trip for his employer, the Indiana Pacers, the team for whom he's a blossoming star and an upcoming free agent, one likely to command a king's ransom.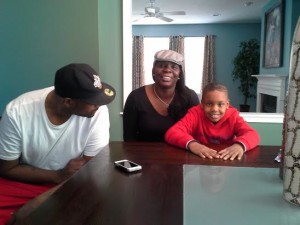 They all live together here: Lance the father, Bernadette the mother, Lance the 23-year-old NBA player and Lantz the seven-year-old. There's a basketball goal with a glass backboard and paved halfcourt in the backyard amid a small wooded area, a framed poster of the pro ballplayer hanging over the fireplace in the family room, and a painting of him hanging over the fireplace in the living room. Otherwise, there's no clue as to the profession of the man – the athlete – who is the fulcrum on which the family turns. Just another family enjoying suburban life, with a brighter future than most.
So, let's get right to the point that's jabbing at the collective conscience of a growing number of Pacers fans. The Stephensons want to stay. All of them. They love it here in their world away from their native Brooklyn. It seems so perfect, in so many ways, that it feels like destiny.
Dad grew up a devoted fan of team president Larry Bird as a player, so when Bird selected his son in the 2010 draft, it seemed fate had determined they would wind up under the same fieldhouse roof. And Lance the player is making Bird the team president look prescient, ranking second on the Pacers in scoring (14.2), second in rebounding (7) and first in assists (5.3). He's a legitimate candidate to be selected as a reserve for the All-Star team, but more importantly, he's gradually recasting an improved image of himself and reveling in the fact he's finally, for the first time, a member of a team that's truly together and accepts him for who he is.
No, things couldn't be better for the Stephensons. But the summer will bring a challenge, either for the Pacers, who must find a creative way to pay him market value – which might require a painful maneuver or two – or for the family, if it has to pick up and move to another city to stay together.
Lance, the player, says "I'm a Pacer," and drops no hints that he wants to test the open market. His parents are more blunt.
"We're optimistic that he will stay here," Dad says. "I listened to Larry Bird (at the press conference to announce Paul George's contract last summer) say, 'Lance, you'll be sitting up here with your dad.' That's what we believe. Until otherwise, that's the plan. Larry Bird said that and we bought into it. We believe it, Lance believes it."
---
Tagged with:
Charlotte Hornets
,
Indiana Pacers
,
Lance Stephenson
,
Lantz Stephenson
,
Los Angeles Clippers